Michael Coveney: Will Mike Leigh's Pirates save the ENO?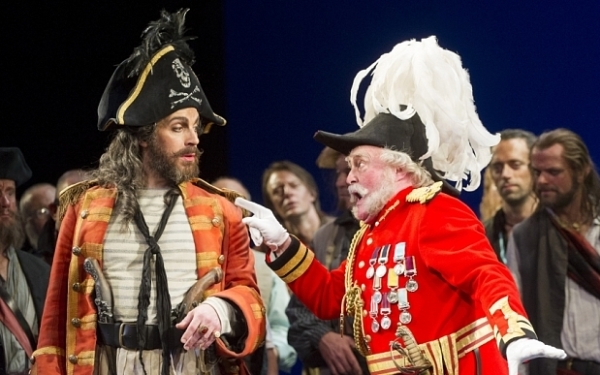 Although the artistic reputation of
English National Opera
is as high as it's ever been over the past 20 years, it still founders in the quagmire of huge deficits, both accumulated and operating. Someone's going to have to decide whether we really want it to continue in the Coliseum or not, and I hope that's a yes.
Why? It's the most glorious theatre in London, it does the most interesting productions, it's chalk to the Royal Opera House's cheese and its potential is limitless. And it's just commissioned a production of The Pirates of Penzance from film director Mike Leigh that is not just, ooh let's get a film director in to placate the culturati (thank you Terry Gilliam, cheers Mike Figgis, very nice, but goodbye), but someone who's thought long and hard about the material – and loves it – and has significant theatre chops, just as the late Anthony Minghella had before he delivered his gorgeous Madame Butterfly.
Most of the opera critics have expressed a muted enthusiasm for Leigh's production, probably because they've been seduced (as indeed was I) by Sasha Regan's exuberant all-male Union Theatre version that is still doing the rounds (coming to the Hackney Empire at the end of June; how will that look on a larger scale, I wonder?), partly because they preferred the cheesy gung-ho of the old Savoy productions anyway, and partly because they think Pirates is second-tier G&S (I don't agree).
There's also a debate about Alison Chitty's abstract design. Chitty's a superb designer, and has done oodles of super naturalistic work with Leigh on film and stage. But abstract design – with period costume – is a different matter, and it proves an acoustic hazard when the chorus are picking their way tentatively up and down a green escalator, or perching on a perilously suspended poop, or peering round a circular aperture, visible only to half the stalls audience.
Upstairs, in the circle, my friends Biggins and Lesley Joseph report they had trouble hearing half the lyrics, and I hate the fact that we are all expected to read English surtitles (you can't not when they're provided) instead of hear the unadorned, un-miked voices. Still, it's nothing but joy to hear Andrew Shore declare he is a very model of a modern major general, or the splendiferous Irish coloratura soprano Claudia Boyle – a new star, or I'll eat my souvenir brochure – discharge Mabel's arias and descants.
You can hear those two alright, and there are good turns from Joshua Bloom as the Pirate King, Rebecca de Pont Davies as a spurned nanny with a limp and an ear trumpet (very Mike Leigh) and Robert Murray as the heroic Frederic once he finds his happier (and upper) register. All my recent G&S has been played on two pianos, or a meagre quintet; it's worth going to the ENO just to hear the full orchestral overture, exquisitely played, in a large space.
'ENO's immediate future must surely lie with directors such as Richard Jones and Deborah Warner'
Leigh keeps the pirates and policemen in check with the music, perhaps too sedately so, but in singular contrast with the rocked-up Joe Papp stage version (and film) starring Kevin Kline and Linda Rondstadt that I found as cheery as a cup of warm sick. Leigh respects the Victorian aesthetic of satirised propriety that informs every note and lyric in the piece; the sentimental numbers are not guyed, and the choruses sung with the seriousness, fervour and well-modulated dynamics only the ENO can provide.
The show, in short, has musical and conceptual integrity, and that's not always big box office. No names, no pack drill, but I never found Jonathan Miller's irrepressible The Mikado as brilliant as all that, and he clearly didn't like the material as much as Leigh likes Pirates.
That said, I don't see any signs of Leigh developing into an opera director, nor does he, I imagine. ENO's immediate future must surely lie with the likes of directors such as Richard Jones and Deborah Warner. Warner's ENO 9/11 Twin Towers opera Between Worlds – music by Tansy Davies, libretto by Nick Drake (not the late pop singer) – came and went at the Barbican with indecent haste.
On paper, it might have sounded a bit late to the party of shows about that fateful sky-blue day in Manhattan in 2001, and it's already four years since Rupert Goold's Decade at St Katharine's Dock revisited the disaster in a sensual cocktail of 20 short plays; an element of that mood of tragic wonder permeated Between Worlds, which drew various participants – and a Greek tragedy-like chorus – into the horror of the attack.
Warner's beautiful production, on a split level set by Michael Levine, and with exquisite (of course) lighting by Jean Kalman, was a total blast, an aggregation of fatalism, chance, foreboding and humane anxiety that came across as an improvised documentary as well as an attempt to sound the depths of the tragedy impulse. And the music was literally out of this world – ethereal, enchanting, secular and ecclesiastical at once, energetic and challenging. I'd never even heard of Tansy Davies before. Now I can't wait to hear what she does next, and I hope it's on the stage at the ENO.
Calixto Bieito's brilliant revival of Carmen is returning to ENO soon. Meanwhile, you'll have to make do with Simon Stephens's Carmen Disruption at the Almeida – a poor stable mate to Carmen Jones, or Peter Brook's pared back version – a nasty and theatrically cod-Teutonic piece of urban re-appropriation that mocks a bourgeois audience – there's no other at the Almeida – by assuming a stance of superior intelligence and luxuriating filth.
There's a scrawny, sideways-on attitude to Bizet's score expressed in the scrapings of a pair of cellists and the more fulsome stop-start ejaculations of Hungarian soprano Viktoria Vizin. A bull's carcass on the stage starts seeping pitch, or tar, towards the end, in which the actors – playing a rent boy, a singer, a female cab driver and a city trader – are somehow smudged. At which point you stop worrying about the future of opera and consider the dry-cleaning bills.