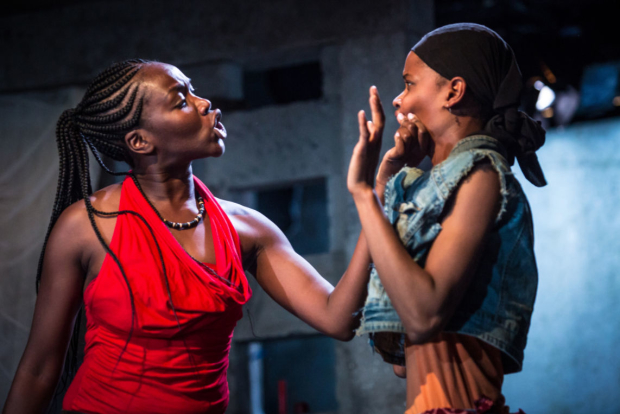 There is a metal clang. Three women spring into a line-up. One looks tired and blank. Another, quickly pulling a wig on, smiles and flutters her eyelashes. The third, by far the youngest, stares determinedly ahead. They wait a moment, then one of them walks out towards the metal clang.
It takes a while for the significance of this ritual to dawn. We're in a cell in Liberia and these three women are being picked to perform their duties as wives to one of the warlords fighting President Charles Taylor. They refer to each other by their order of marriage: No. 1, No. 3, and, new to this arrangement, No. 4. Each time they return, they wash themselves out. It's as routine as taking your coat off when you get home.
Eclipsed shows these women swerving between solidarity and rivalry. They huddle together at first, hiding No. 4 and reading a chewed up copy of a Bill Clinton biography like a bedtime story. However, each new arrival usurps – or eclipses – her predecessors. No. 3 (Joan Iyiola) finds herself picked from the line-up less and less frequently and the pack reshuffles, each woman seeking out a new role.
'Gurira's writing is first class'
Their survival, let alone their status, depends on proving themselves useful. One takes on chores; another, motherhood. The absent second wife returns: a soldier with a warrior's name, Disgruntled (Faith Alabi). No. 4, a doe-eyed, sinewy Letitia Wright, knows that she too must make herself indispensable. She turns to the soldier, matching her muscle and echoing her bark.
Danai Gurira's play, first seen at Yale Rep in 2009, works on a number of levels. As a story, a particular perspective on Liberia's civil war, it is searing and morally complex. As in the Diana Nneka Atuona's Liberian Girl, these women must betray their gender, either as soldiers or as consensual sex slaves, to ensure their survival. The question, simply and awfully, is this: "Is it you or them?"
The wives fall into archetypal roles: maid, mother, lover, fighter. Iyiola is frantically sassy as No. 3 – her birth-name's Bessie – forever fluffing up her Janet Jackson-style wig and later wearing her newborn like a fashionable backpack, while Asante works with a wearied calm as No.1, Helena. T'nia Miller's charity worker Rita completes the set as a kind of peace-mother. How these women define themselves, how they relate to one another and to men is replicated far beyond Liberia and its war. Bill Clinton – America's "Big Man" – has a No. 2 of his own, don't forget. These women accept they're nameless or earn a name by taking on a male role.
Gurira's writing is first class. Zoom out and it's a fierce political indictment and feminist critique. Zoom in and it's richly human, full of keen-eyed detail. "Hollow be thy name," the women pray. They watch one another, sometimes wary, sometimes warm and Caroline Byrne's superb production – her full-length debut, no less – is never anything short of utterly convincing. These are undoubtedly African women and, thanks to Steffany George's movement direction, they hold their bodies as such. For all that, however, Eclipsed is far more than a play about African women.
Eclipsed continues at the Gate Theatre until 16 May