Review: Comet (Pleasance Theatre)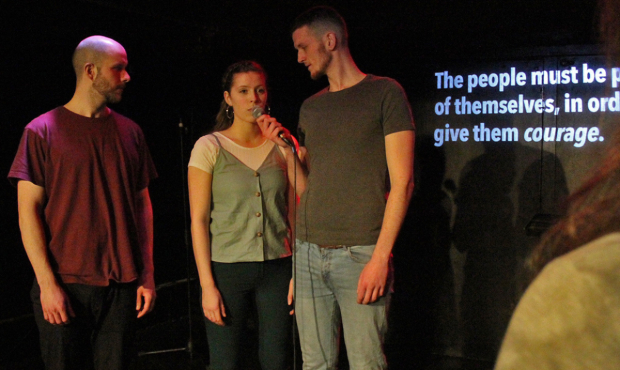 (Re)presented is an admirable initiative by From Ground Up Theatre Company to give professional exposure to actors who have recently graduated from drama school without acquiring agents. This world premiere of Kieran Knowles' intriguing hour-long piece is their inaugural production and, as expected, it puts the acting front and centre in a stark, dynamic, decor-free staging by Tommo Fowler.
Knowles' collage-like script recalls Martin Crimp as it builds a multiple viewpoint picture of the pressures and circumstances that shape a university student into an on-campus killer. What is especially chilling, but increasingly compulsive, is the non-histrionic, matter-of-fact way that the evidence is presented: we learn about Charlotte's unhappy, but hardly exceptional, family background, and her online grooming by a preachy, aggressive iconoclast. The play jackknifes between well-observed depictions of the misery of Charlotte's home life, the social awkwardness of arrival and forming tentative friendships at university, and anguished, sometimes furious post-event statements from sources – as varied as a student who saw the attack to the co-worker of the mother of one of the victims.
This non-linear storytelling successfully builds tension and, crucially, gives each of the five actors chance to shine as they embody a variety of figures connected to the central atrocity. There are no costume or light changes: alterations in attitudes, vocal timbre and stance suffice to differentiate between characters, to sometimes humorous effect, but always with admirable clarity. All five actors acquit themselves well and are supported by Knowles' impressive knack for writing naturalistic speech. This frequently sounds like a verbatim drama – the genre of plays where actors deliver the actual words of real people complete with verbal tics and stumbles – and I mean that as a compliment.
As Charlotte, Hannah Parker convincingly conveys the simultaneous exhausting energy and dead-behind-the-eyes quality of the newly converted. She is at once bland and deeply troubling. Daniel Harkin unnervingly goes from mildly disgruntled to psychotically furious then back to something worryingly in-between as her online mentor, his kind face belying the poison coming out of his mouth. Alexandra Laurence is haunting as the uni friend who will remain forever tormented by her inability to spot what was going on and stop it before the tragedy unfurled. There is further excellent work from Zoe Bullock in a variety of roles from defensive head of university to the student who observed the killing from a corner of the dining hall, and Ross Ford, displaying laudable versatility as the well-meaning victim and, in some welcome comedy, the bus driver who used to ferry him to college. All in all, they're a fine team, and it will be interesting to see what each of them does next.
The play's title is a bit of a red herring: it could just as easily have been called Zebra as Charlotte describes her online epiphany as being as unexpected as observing a comet, or seeing a zebra for the first time when you're used to looking at horses, but then this is a mini-drama that makes up its own rules. It's quirky, unsettling and stays with you long after the play is over.
Comet runs at Pleasance Theatre until 18 March.