Botallack O'Clock (Old Red Lion Theatre)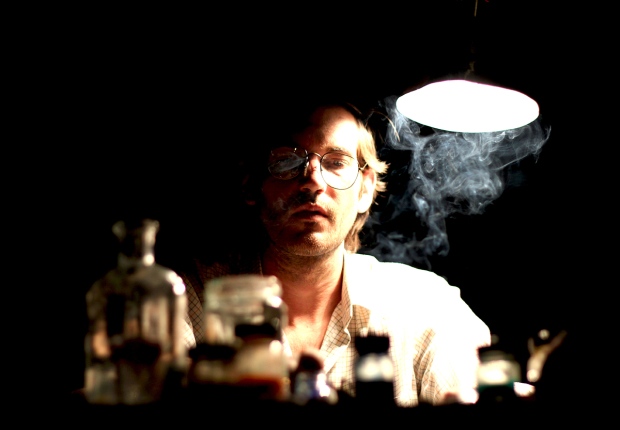 Eddie Elks' not-quite monologue about the life, death and imagination of painter Roger Hilton CBE has shades of Beckett, vaudeville and King Lear (from which it quotes at length) but turns out to be something very special and entirely it's own beast. It's compulsive, crazy, clever, scattershot, much like its central character. The title comes from a W.S.Graham poem about the artist.
We first encounter Hilton in the middle of the night sprawled on a bed in his studio in Botallack, Cornwall (a magnificently seedy set design by Ken McClymont) and he is broken, bolshy and loquacious, once he has poured himself a whisky and coughed his lungs up that is.
At first sight Dan Frost seems perhaps a little young to fully embody the battered alcoholic genius but as the show goes on this matters less and less, particularly in a delightful Paris sequence where Frost morphs superbly into a youthful student Hilton. This is acting of the highest order: detailed, unsentimental but completely engaging. His attempts to spear a large pickle in a jar are as funny as his ultimate surrender is deeply moving.
The rather wonderful conceit of Elks' script is that he has Hilton drunkenly conversing with his radio (voiced brilliantly by George Haynes – by turns matey, seductive and menacing) as he prepares for a fantasy edition of Desert Island Discs. This is a neat way of furnishing us with facts about Hilton's life without beating us over the head with it, and frequently proves extremely funny. Haynes also appears onstage but it would be a massive spoiler to tell you how and why but suffice it to say that he and Frost work beautifully together.
Hilton comes across as a fascinating character; infuriating, eccentric and cranky but also kind, sensitive and hugely witty, given to gloriously quotable pronouncements such as "art is essentially breaking out" and "never confront a painting face to face. Same with your wife. Both are better seen out of the corner of your eye whilst you entertain yourself with lighter things".
Christopher Naime's accomplished lighting design is a key element in Elks' atmospheric, engrossing production, subtly transforming the squalid studio into a place of magic and memory.
The final montage of Roger Hilton's work and real living space brought a lump to my throat. Highly recommended.
Duration: 70 mins (no interval).
Botallack O'Clock runs at the Old Red Lion until 6 February 2016.