To Kill A Mockingbird to embark on new UK tour in 2019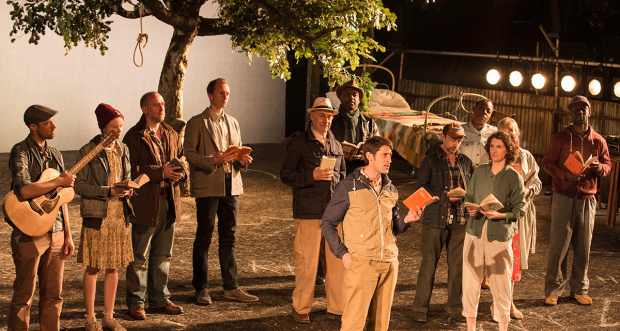 The Regent's Park Open Air Theatre production of To Kill A Mockingbird will embark on a new UK tour in 2019, it was been announced.
Co-produced with Jonathan Church and the Curve Leicester, the stage show is based on Harper Lee's classic Pulitzer Prize-winning novel, widely regarded as one of the most seminal of the twentieth century.
Casting for the show will be Simon Robson in the role of Atticus Finch alongside Summer Jenkins and Eve Prenelle in the role of Scout and Stanley Jarvis and Jaxon Knopf and Theo Josse Wilkinson in the role of Jem. The role of Dill will be shared by Billy Marlow, Joshua Pickering and Jack Riley.
Joining them is Pearl Appleby (Mayella Ewell), Dave Fishley (Reverend Sykes), Joseph Fletcher (Arthur Radley), Kieran Hill (Heck Tate), Alexandra Mathie (Stephanie Crawford/Mrs Dubose), Ged McKenna (Judge Taylor/Walter Cunningham), John Omole (Tom Robinson), Carl Rice (Bob Ewell), Sarah Tansey (Maudie Atkinson), Paul Woodson (Nathan Radley/Mr Gilmer) and Amanda Wright (Calpurnia).
Also in the cast is Erica Birtles, Sophie Cartman, Valentine Hanson and Christopher D Hunt. Music is composed and performed live by Phil King (Luke Potter will perform at certain venues).
The stage show was first produced at the Open Air Theatre in 2013 with direction by Timothy Sheader, before embarking on a 2015 UK tour and performing for a month at the Barbican.
When the show came to the Barbican it was described as "hard to top".
The new tour will open at Curve Leicester on 7 February and will then tour to Milton Keynes, Birmingham, Norwich, Kingston, Newcastle, Edinburgh, Malvern, Canterbury, Cambridge, Dublin, Guildford, Salford, Inverness, Aberdeen.