Review: Il tabarro and Gianni Schicchi (Snape Maltings and tour)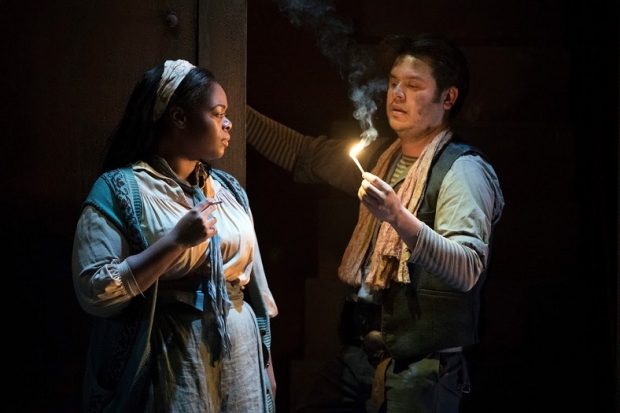 The exigencies of multi-venue touring make it nigh impossible to take Puccini's full-length Il trittico out on the road, but you won't feel short-changed by the absence of Suor Angelica, the trilogy's central one-acter, in English Touring Opera's spring marathon. What remains still adds up to a substantial night's entertainment, especially when it's done this well.
As well as in 2011? Not quite, at least when I caught up with it at Snape Maltings, the seventh stop on its trek from Truro to York and all points between. Aside from lighting glitches in Il tabarro, wayward surtitles in Gianni Schicchi and an absent front curtain for both – none of which was a big deal – there was also one unsatisfactory lead performance, the responsibility for which rests with the casting department rather than with the artist himself since on its own terms the singer's work was duly professional.
Enough said about that. Let's concentrate on the positives. Ladies and gentlemen, I give you Ms Sarah-Jane Lewis, a young British soprano who shook the very fabric of the Maltings with her tonally gorgeous and dramatically distressing assumption of Giorgetta, the bargeman's adulterous wife in Il tabarro ('The Cloak'). Londoners can catch this shooting star in ENO's much-anticipated Porgy and Bess next autumn; until then, England is her parish and no one with an ear for young talent should miss her.
Lewis's portrayal was well matched to that of her lover, Luigi. Charne Rochford is one of several returning cast members from seven years ago and his edgy, passionate stevedore is as rough-hewn and Italianate now as it was then. The pair's 'Belleville' duet, "E' ben altro il mio sogno", simmered with unfulfilled desire as the presence of an intrusive ragpicker forced them to keep their distance. This opera is late Puccini at his ripest and the pair ate it up.
ETO artistic director James Conway's take on Il tabarro is straightforwardly done, over-dimly lit as is his wont but dramatically on the money. Neil Irish's claustrophobic design for it accentuates the yarn's murderous quality, whereas the über-clutter of his set for Gianni Schicchi is a veritable romping ground for director Liam Steel's joyous hour of Commedia dell'arte-inspired brilliance. His was, and remains, the most satisfying production of this over-familiar warhorse you're likely to see anywhere, staged with a free-flowing inspiration that had me convulsed. His Lauretta, Galina Averina, stole the show both with her immortal 'dad' aria, "O mio babbino caro" (here a calculating bit of little-finger-winding, complete with a thumbs-up behind Pop's back) and through her sulky teenage attic-room antics (criminally underlit in this revival), a touch of comic wizardry by Steel that keeps her in the play when she's absent from the fray.
Full-on performances as the greed-fuelled Donati family, led by Clarissa Meek (Zita) and Timothy Dawkins (Simone) and with a thrillingly resonant romantic tenor in Luciano Botelho as the loved-up Rinuccio, populated a tightly-choreographed staging of this busy opera in which everyone's individual track was fleshed out and sustained. As directed by Steel, the appalling siblings bobbed like marionettes when Andrew Slater's wily old Schicchi pulled their strings.
Michael Rosewell, making light of being one of the best opera conductors around, led idiomatic and finely executed interpretations of both operas in Ettore Panizza's subtle re-orchestration for some 35 players. ETO's music director illuminated the evening and kept the torch alive above the directors' chiaroscuro. The result was Puccini at his most rewarding, so if this double-bill travels your way thumb it down and hitch a ride.