Review: La clemenza di Tito (Glyndebourne)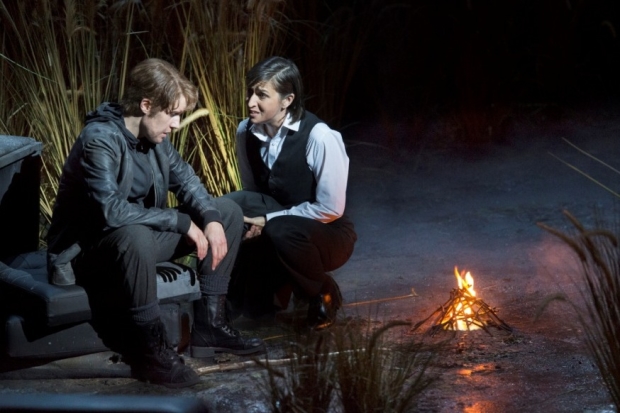 Not even Mozart held a torch for this opera. It was a job of work, commissioned from a needy composer to mark the coronation of King Leopold II of Bohemia. The tale of an emperor who forgives everybody who plots against him is little more than royalist propaganda.
For La clemenza di Tito, his penultimate opera, the impecunious Mozart took an old libretto that had been set some 40 times before, sliced the gristle from it and set it to music whose drama falls short of the standards he had achieved in the recently-completed Da Ponte operas Le nozze di Figaro, Don Giovanni and Così fan tutte. It marked a reluctant return to the old ways: 'opera seria', with formal recitative and arias, a fusty convention from which he had moved on.
Yet Clemenza is still late Mozart, so of course it contains some delicious music. Sesto, the emperor's childhood friend who is inveigled by the jealous Vitellia into betraying him, gets the best of it, and the departure of a pregnant Kate Lindsey from the production shortly before rehearsals began has given the young British mezzo Anna Stéphany her chance to shine – which she does, effulgently, and turns in one of my performances of the year (an ever-lengthening list, it must be said).
It's a matter of record that this has been a troubled production, but they didn't have to make it so obvious. An opera that stands at the cinderella end of the repertoire needs all the love it can get; but hard on the heels of Lindsey's unhappy goodbye (she would like to have stayed) came the peremptory sacking of Steve Davislim from the title role, 'artistic differences' being the euphemism of choice.
'Guth's take on Clemenza is surprisingly frills-free'
The tenor Richard Croft flew in to take over, but his curious performance on opening night suggests that the show's jinx is still active. While the American's voice is in decent fettle, his ever-lengthening pauses during Tito's recitatives seemed designed to serve no other purpose than to annoy the conductor. Robin Ticciati was obliged to wait for unconscionable periods, then pounce when he finally sang. It was unedifying; but full marks to Ashok Gupta, the fortepiano continuo player, who never missed a beat.
Michèle Losier, who stepped in as Annio when Stéphany stepped up to Sesto, was a far happier addition to a company whose younger members eclipsed their senior colleagues (although not Clive Bayley, whose splendidly even-toned contribution as a baleful Publio, the captain of the Praetorian Guard, was immaculate). Joélle Harvey, too, made a strong impression in her lightly-sketched role as Servilia.
Although the German director Claus Guth's combination of aesthetic inventiveness and operatic integrity have earned him a formidable reputation in the German- and French-speaking countries, his take on Clemenza is surprisingly frills-free, Tito's palace is a pristine modern office on stilts; the rest of the world a mass of knotted undergrowth through which characters wade when their minds are in a muddle. (Interestingly, Guth and his designer, Christian Schmidt, used an identical symbolic device in a recent production of Lohengrin that has not been seen on these shores. A creative shortcut?)
First-night mishaps book-ended the evening. A video depicting Sesto and Tito as children malfunctioned during Ticciati's fast yet measured account of the overture, while as the final bow subsided a drop curtain struck the unfortunate Alice Coote (who had earlier delivered a somewhat orotund account of the scheming Vitellia) on the back of the head.
Poor Glyndebourne. Somebody call an exorcist.
La clemenza di Tito continues in repertory at Glyndebourne until 26 August.