Don Giovanni (Glyndebourne)
While Mozart's
dramma giocoso
(comic drama) has gained notoriety as a director's graveyard,
Jonathan Kent
's 2010
Glyndebourne
production may be the first to behave as though it's actually set in one. So funereal is the director's view of
Don Giovanni
that when
Taras Shtonda
's baleful Commendatore makes his late appearance as a freshly disinterred corpse he seems right at home.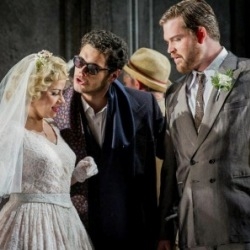 Each act begins with a startling snap to black, and things scarcely brighten up thereafter as regular collaborator Paul Brown sets Kent's vision within and around a duplicitous revolving cube that's less a box of delights than a chamber of horrors. The shade du jour is grey, illuminated by Mark Henderson in a mood that's as close as you can get to jet and still call it light. All this works a treat in those final scenes but earlier on it stifles the comedy and, despite the elegance of Andrés Orozco-Estrada's conducting, all but dampens the Mozartian sparkle.
As a result the first act was curiously uninvolving. Even tenor Ben Johnson's superlative 'Dalla sua pace', Don Ottavio's sole aria of substance since 'Il mio tesoro' has sadly been excised from act two, was drained of radiance by being set against a gothic background straight out of The Woman in Black.
Mozart and Da Ponte did not call their opera giocoso for nothing, and the secret of Don Giovanni is surely its clash of humours: sinister yet playful, immoral yet sexy, murderous yet farcical. It's the Don Juan story of course, and the madcap ronde of Giovanni's erotic misdeeds cries out for comic brightness and time to play itself in. He dices with a wronged virgin, Donna Anna, a wronged wife, Donna Elvira, and a soon-to-be-wronged bride, Zerlina, yet he always gets away with it – the cad. We need to laugh and cry at the Don's scabrous adventures before we gasp at his undoing, but Kent's penumbral gloom makes it hard even to care.
"a ray of light in the Don's murky world"
In this revival by Lloyd Wood for Glyndebourne's 80th anniversary season the cast is stylish and mostly excellent, although several accomplished young singers felt the gremlins nibble on opening night. Elliot Madore cut a dash in the title role and sang with a relaxed urbanity that recalled Gerald Finley (his predecessor in this production) except that he lacked the last degree of vocal agility. Minor technical flaws were apparent, too, in the sweetly contrasted sopranos of Serena Farnocchia's velvet-voiced Donna Elvira, and Layla Claire, whose clear bright tones emphasised Donna Anna's virtue.
An excellent pair of newlyweds, Lenka Máčiková (Zerlina) and Brandon Cedel (Masetto), brought character and chemistry to their roles, but Edwin Crossley-Mercer's Leporello was a muted presence even in these dark surroundings. He wasn't helped by Orozco-Estrada's drawn-out conducting of his 'catalogue' number, one of three or four excessively slow arias in the first act. Yet the Colombian conductor wrought ninety percent of the score with such grace and attention to inner detail that it was easy to understand why the London Philharmonic Orchestra, who responded to him so well, has appointed him its next Chief Guest Conductor. He was a ray of light in the Don's murky world.