Chris Chibnall discusses his new play Worst Wedding Ever at Salisbury Playhouse.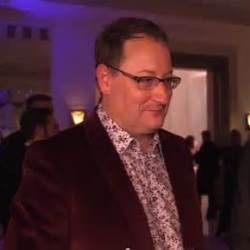 Chris Chibnall's Worst Wedding Ever opened last week at Salisbury Playhouse. Now perhaps known for his work as creator of Broadchurch he has extensive credits as a writer and show runner on amongst others Doctor Who, Torchwood, Law and Order:UK, Life of Mars and others. His theatre work includes Kiss Me Like You Mean It and Gaffer!
CC: The play (Worst Wedding Ever) is a comedy drama about a mother/daughter relationship. Rachel the young bride is trying to plan her wedding but is skint, as we all our these days. Her mother comes in to take over and enlists the whole family to lend their support and complications ensure. I hope its funny and relatively emotional and its a family drama. The playwrights who really inspired me were people like WIlly Russell, Alan Bleasdale and Alan Ayckbourn. Its a main stage play with a big cast and its very family and character driven. Its very difficult to say but those are the type of theatre writing that inspired me.
How did the play come about? Was it commisioned?
No not at all. I started off in the theatre and did a number of plays and then was seduced into television and I had this feeling for a while that i wanted to get back into the theatre. I'd worked with Gareth Machin when he was AD at Southwark Playhouse and he directed a play of mine called Last Summer in 2004. We were talking when he was at NT Studio about three years ago, we met for a cup of tea just to catch up and I told him about this idea I had. The problem was that I had this idea but it was a big idea, a large play about a wedding day. We did some work on it at the National Studio and then I went away and wrote some scenes. As I was writing Gareth became the AD of the Salisbury Playhouse, a stroke of good fortune, obviously for him but also for me, and he said he really wanted to kick-start the new writing at Salisbury and do you think you'd like to do it for us. Its just a great gift. It was brought together by this beautiful dollop of serendipity.
How does it feel to be the first new commission in 10 years?
I feel enormously priviliged. I hope to give people a good time, it should be a rollicking night out, there's a live band, big cast and set. I feel very grateful and indebted to Gareth and the whole team at Salisbury, and hopefully people will come and like what they see and it'll be a way for them to come and see other new work. Hopefully it'll open new doors and reinvogarate the new writing scene in the South West.
On the differences between television and stage?
Its less of a tactical thing but my work is seperated, the comedy drama I write is mostly in theatre, I love the sound of laughterthat occur in theatre so that's the kind of work I write. What the theatre is great at is relationships and character driven pieces, the story of most plays are about the story of the relationships that occur in them. TV is more hungry for stone cold narrative and plotting though what has been great about working in both is being able to use both facets and Worst Wedding Ever is a very clear piece of mainstream storytelling as well as a rollicking night out.
What first got you involved in the theatre?
I did a drama degree and that really set me up, I think once you have the bug you're doomed for life. I was really lucky that in the summer holidays between doing my A Levels and beginning my degree I saw an advert for writers aged 18-25 to write a 30 minute piece for a short play festival. I got called in to attend a workshop on my first ever draft, Amelia Bullmore was one of the actors. Just going into a rehearsal room at 18 with really great actors speaking your lines, it was like another door opening.
Whats next for you?
I'm writing Broadchurch 2, thats the big job, it has to be finished this year so pretty much all my time is going on that.
Can you give us any exclusives on that?
(Laughter) No I can't. I can't even tell my Dad. Everytime he rings me he asks 'come on, who did it?' He gets very cross. I think we've got some surprises to come.
Worst Wedding Ever runs until 19 April 2014
– Kris Hallett