Were critics on cloud nine for City of Angels?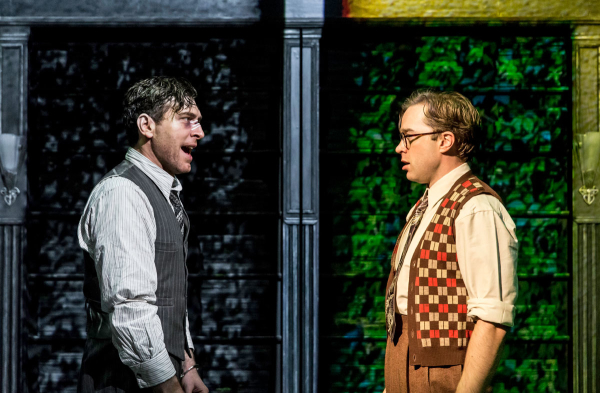 Michael Coveney
WhatsOnStage
★★★
As long as you like jazz, film noir, witty lyrics, clever lighting and a two-layered plot so fiendishly complicated you might go cross-eyed trying to keep up, then City of Angels, a truly original musical (dating from 1989), is the show for you… This is a big show in a tiny space (for a specialist, not a popular, audience), a bespoke musical that allows you to sample intricate lyrics… the action is amusingly disrupted by Nick Cavaliere and Adam Fogerty as a couple of hoods, one small and globular, the other as big as a house. Craig as Stine's wife (also whore and nightclub singer) discharges one of the best numbers, "It needs work," with a ferocious critical attitude but it's Barks who walks out the door in torch song triumph…
Michael Billington
Guardian
★★★★
City of Angels, first seen on Broadway in 1989, enjoys cult status among aficionados of musicals. It has one of the wittiest books ever written, boasts an effervescent score by Cy Coleman and here gets as slick and svelte a production by Josie Rourke as you could wish… Larry Gelbart's phenomenally clever, split-level play is packed with jokes… But, although Coleman's score has the jazzy feel of 1940s film noir, the songs seem to adorn the action rather than spring organically from it… Even if it's not a perfect show, the presentation is immaculate… The performances are also excellent. Hadley Fraser's harassed Stine is ideally matched by the Bogartesque assurance of Tam Mutu's Stone, Peter Polycarpou is explosively funny as an egomaniac producer… The show may be caviar to the general, but Rourke's production is a gourmet's delight.
Dominic Cavendish
Daily Telegraph
★★★★★
…The joy of City of Angels – given a stupendous revival at the Donmar… is that it's bitterly amusing about the treacherous LA movie industry but serves as far more than a one-note satire… The dialogue has the zest of Raymond Chandler at his best… the warm bath of Coleman's score keeps frothing with wit although the grittier salts of emotional sincerity are still stirred in when required… There's not a weak link in the ensemble either, and if the male principals (Hadley Fraser's Stine, Tam Matu's Stone and Peter Polycarpou's Buddy) are impressive, the leading ladies (Rosalie Craig, Katherine Kelly and Rebecca Trehearn) are even more stunning every which way. If there are angels up there, please answer my prayers and ensure this transfers.
Henry Hitchings
Evening Standard
★★★★
This musical comedy, which premiered in 1989, is clever and gloriously stylish. It pays homage to the soulfulness of film noir and has gleeful fun at the expense of Hollywood. This is the first time Josie Rourke has directed a musical, and her swaggering yet elegant revival is packed with classy performances… The story pulses with distortions, which are emphasised by five members of the cast having dual roles… Cy Coleman's music is infused with upbeat jazziness, Larry Gelbart's book is dense and witty, and David Zippel's lyrics ripple with wisecracking intelligence. At times the score strays towards frantic pastiche and the storytelling is a bit too ingenious for its own good. But this is a smart, seductive and often very funny show.
Dominic Maxwell
The Times
★★★★
…I'll confess: towards the interval, I was considering the case against City of Angels; that it might be one of those adventurous, dazzling, but emotionally shallow shows that prods nicely at the brain but sidelines the soul. But then the scintillating second half comes along to season these super-smart exercises in style with just enough emotional content… Your heart soars. It's a big, busy show in a small theatre, but Rourke pulls it off, aided by the choreographer, Stephen Mear, and the designer, Robert Jones… Sure, it's a show for people in love with the process of fiction, with the business of show. By the end, though, this brilliant cast of 18 ensure that that's all of us. Bravo.