Were critics frosty towards Frozen?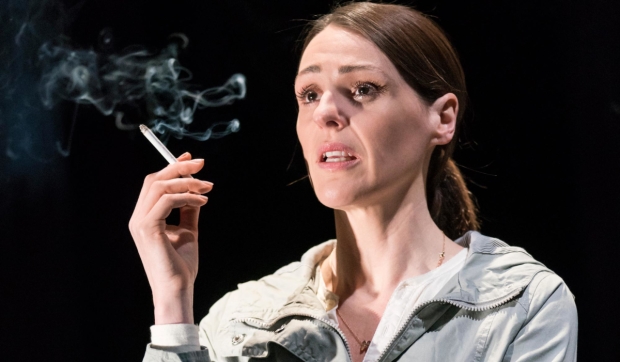 ★★★
"Bryony Lavery's play was written in 1998, long before Disney dreamt of Elsa and sent her up a mountain to sing "Let It Go". Yet oddly, her drama uses the same metaphor about the icy landscape of the heart to examine the case of a serial killer, the mother of one of his victims and the psychiatrist who tries to explain his inexplicable actions."
"It's abstract and arty, but I found it all a bit distracting and it increased my sense of alienation; the play is so schematic in its probing of loss and the frozen psychology of both [the mother] Nancy and the abused and abusive Ralph that it is sometimes hard to get involved. "
"Jones is at her best in those quiet scenes too – and in the moment where she realises, finally, that against her desperate hoping, her child is dead. She's a likeable presence on stage, but I felt the performance worked from the outside in rather than the other way around."
★★★★
"An astute production by Jonathan Munby and a highly accomplished cast, made up of Suranne Jones from TV's Doctor Foster, Jason Watkins and Nina Sosanya, ensures that we look beyond the immediate horror of the situation to ask questions about society's, and our own, instinctive hunger for retribution."
"What is striking is that Lavery's play is both radical in form and progressive in content. Having shown the characters from their own point of view, it then subjects them to the interaction of drama. In the case of Nancy, we see how she moves from a revenge-driven figure to a woman who, after two decades, is compelled by a compassionate curiosity to seek out her daughter's killer: a confrontation that is theatrically riveting."
"The performances match the intensity of the writing. Jones captures excellently the contradictory emotions of Nancy…Sosanya shows very well that professional skill is no guard against private unhappiness. But the most remarkable performance comes from Watkins as Ralph. He is both chilling and wheedling in his approach to the unseen Rhona."
★★★
"It's arguable that this role is Jones's toughest assignment yet. Not just because she's being forced to confront, nightly, every parent's worst nightmare, but because Lavery gives so little opportunity for fully airing the emotional fall-out of that sickening horror.
"Despite its stagey first-half sequence of monologues, Frozen has an almost televisual restraint. Much of the heroine's energy is spent on maintaining a façade of determined resolve… Jonathan Munby's production projects multiple images of the vanished girl on its grey set of shifting panels, but the opportunities to find out more about her prove elusive."
"Jones doesn't disappoint – but, given the slow-burn, low-heat script, nor does she have much scope to wow. For much of the evening – which soon whizzes us across 20 years, to the point where the prolific culprit is apprehended – the focus is on the monster rather than the mother. The night – provocatively – belongs to Jason Watkins, who gives one of the finest performances of his career as the serial child-killer. "
★★★
"Bryony Lavery's 1998 study of crime, grief and people's capacity to forgive is a tautly constructed chamber-piece. But it is not treated as such by Jonathan Munby's production – it's stretched in all directions, every point hammered home.
"The production benefits from three strong performances, Jones convinces as a grieving mother struggling to hold it together for the sake of her surviving daughter, the unseen Ingrid. Sosanya brings brisk academic efficiency as well as a necessary edge of humour to the character of the psychologist, who it turns out is also processing her own recent loss. Watkins gives perhaps the most impressive performance of all. "
"If anything, Munby's production serves to highlight the cracks and flaws in Lavery's humane, toothsome, and intriguing play, to reduce it as a piece of writing. I've seen chilling productions of this play in studios spaces, but despite the calibre of the actors involved, on this vast West End stage it feels exposed."
★★★
"Good play though it is, you doubt it would be playing in the West End without Suranne Jones in the cast. "
"I'd love to tell you it's another triumph for her, but actually Jones struggles to inhabit her character. She starts off talking to us from her garden, breezily unaware of the horrible things that have already happened to her girl. As months and then years pass, Jones locks herself into a kind of tearful confusion and rancour that makes perfect sense yet always feels like acting."
"Sosanya is the show's head, Jones its heart. To start with, anyway. The eventual confrontation between the mother and her child's killer is stunning because it is so subdued, so lacking in obvious confrontation or resolution. Frozen ends up clear-sighted yet compassionate in its depiction of forgiveness and revenge, the price of misdeeds and the need for redemption."
Frozen runs at Theatre Royal Haymarket until 5 May.