Watch the cast of Les Misérables perform on Britain's Got Talent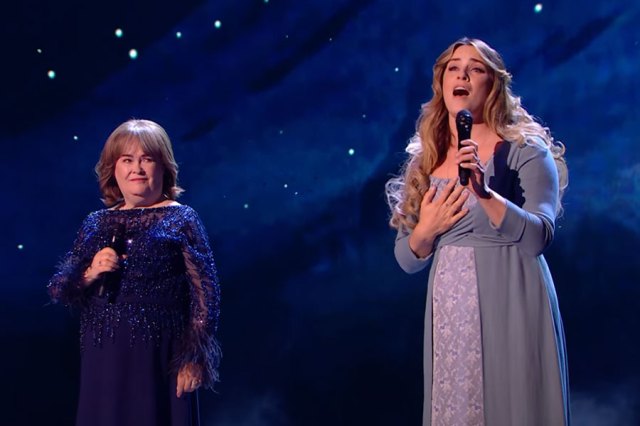 The company of Les Misérables took to the stage at Britain's Got Talent with a special performance – featuring Susan Boyle!
The show, which continues its run in the West End at the Sondheim Theatre, is led by a cast including Josh Piterman (The Phantom of the Opera) as Jean Valjean, Stewart Clarke (Cabaret) as Javert, WhatsOnStage Award-winnner Lucie Jones (Wicked) as Fantine, Claire Machin (Mary Poppins) as Madame Thénardier and Harry Chandler (making his West End debut) as Enjolras. Continuing are Gerard Carey as Thénardier, Robert Tripolino as Marius, Nathania Ong as Éponine, Lulu-Mae Pears as Cosette.
As Boyle discussed on the show, she experienced a minor stroke last year – but decided to make her way back to the stage to duet with Jones on "I Dreamed A Dream". The company then emerged to continue the performance with "Do You Hear the People Sing".
Alain Boublil and Claude-Michel Schönberg's musical, adapted from the novel by Victor Hugo, tells the tale of a man who has a rocky time after a botched attempt to nab some bread, as well as the failed revolution that he finds himself caught up in.
The show itself featured a plethora of contestants channelling their staginess, including Olivia Lynes performing "Let It Go" from Frozen (currently running in the West End) and Travis George singing "This Is Me" from The Greatest Showman, which sounds as though it'll be winding its way to the stage in the future.
A variety of West End shows also made appearances on the show across the last week: