untitled f*ck m*ss s**gon play review – a century of stereotypes rewritten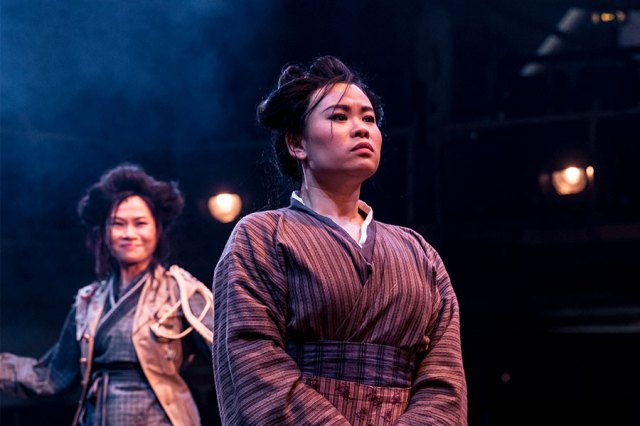 New York based playwright Kimber Lee won the inaugural Best International Play Award at the Bruntwood Prize for Playwriting in 2019, and four years on, her untitled f*ck m*ss s**gon play is at the Royal Exchange as part of Manchester International Festival. A winner on paper, it does not disappoint on stage. This punchy, acerbic and acutely observed piece of theatre kicks ass as it highlights the dangers of cultural appropriation and takes an unflinching look at intergenerational trauma.  
In the hands of a less skilled writer, this could get mired down in being earnest and preachy. Instead Lee and director Roy Alexander Weise have created a wickedly funny satire that uses a Groundhog Day-esque premise to great effect. Rochelle Rose narrates a series of dramatic loops that start with Puccini and Madame Butterfly in 1906, jump to South Pacific in 1949, the 50s/60s era of M*A*S*H, and musicals such as The World of Suzie Wong, to 1975 and Miss Saigon.
The always "dirt poor but very clean" Kim endures a seemingly endless cycle of hope, seduction, yearning and betrayal culminating in her graceful suicide. These scenes play out in a speeded up and increasingly fragmented manner as Kim becomes gradually more aware of her plight and, unsurprisingly, gets more than a little annoyed as she finally concludes…"this is such bullsh*t!". Fast forward to 2023 and the play shifts gear as the bamboo huts give way to the Pottery Barn chic of an Upper East Side apartment. The madcap humour is replaced by more sophisticated, reflective monologues that examine what if anything has changed.  
Lee uses her characters to explore stereotypes employed on stage and screen, and the cast lean into this with real gusto. Mei Mac absolutely embodies Kim as the doe-eyed, sweetly pliable Asian girl who gradually gets more ballsy and able to voice her own opinions. Lourdes Faberes is comedic gold as her grasping, pushy mother who gleefully belts out her unique Tina Turner rendition of "Proud Mary" while strumming her traditional shemisen. Tom Weston-Jones is perfectly cast as the square-jawed all-American who arrogantly thinks using random generic words makes him somehow fluent in another language. Jeff D'Sangalang skillfully takes on a range of characters and Jennifer Kirby makes for icy blonde perfection. Rochelle Rose narrates every line to maximum velvety effect so the loops take on an aura of a Mills and Boon romantic pastiche which she deftly balances with sardonic, pithy barbs.
This really feels like groundbreaking work that both entertains and informs. The later scenes shift the pace and reflect the experience of Asian women who, like Kim and Lee, have no desire to have Western culture write their stories, and how that can sit alongside the previous generation, who were excited to see Nancy Kwan on screen. Tellingly, when she wore her iconic cheongsam it was to be casually renamed the Suzie Wong dress in Western culture. Thankfully here the women write their own stories – and they are f**king great!