Treason the Musical review – more fizzle than sizzle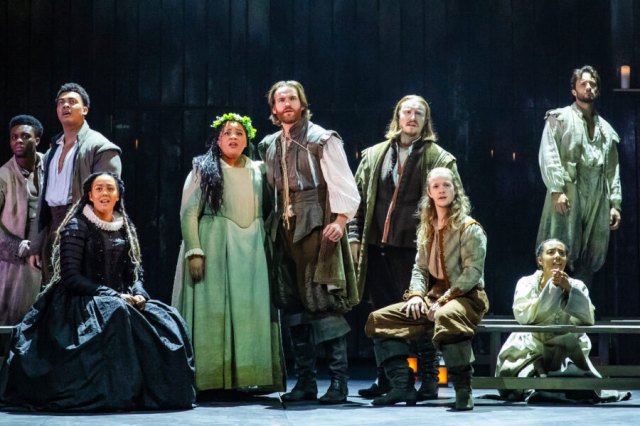 Following the initial release of a five-track EP in 2020, the development of this new musical about the Gunpowder Plot of 1605 has been a slow burn. Readings, workshops and the inevitable 'staged-concerts', have all led to this first fully-realised production at the cavernous Alexandra Palace. Sadly, none of the work to date has managed to ignite, the result being an interminably dull and devilishly unfocussed musical that is about as disappointing as a damp Catherine Wheel on a dilapidated fence post.
The subjugation of Catholics after the ascendance to the throne of King James I, was the catalyst that inspired a group of, now largely unremembered, conspirators to send a message to the new King and to Parliament. Although Guy Fawkes may be the poster-boy for the plot these days, it is the rest of the gang that Charli Eglinton and Kieran Lynn's meandering book seem distracted by. It starts promisingly enough as the Catholic Thomas Percy secretly marries the Protestant Martha with the hope that petitioning the new King will lead to unity of faiths.
Although Guy Fawkes is omnipresent throughout as some kind of narrating apparition, Eglinton and Lynn decide instead to throw a multitude of other, frustratingly underwritten players into the mix. Each gets a song (some get many), but none really get any kind of emotional depth of understanding to make them relevant to the plot. It soon becomes a challenge to know, or care, who everyone is (not helped by the gloom of the ever-distant stage at Ally Pally) and what part in the plot (either gunpowder or story) they are playing.
Ricky Allan's music and lyrics are mostly quite mundane and miss out on the dramatic opportunities that such an explosive story should provide. There are flashes of vibrancy that lead to moments of excitement, but much like the fireworks that now immortalise this particular moment in history, they come and go in an anti-climatic cloud of smoke.
Contemporary choreography from Taylor Witcomb is nicely executed but is often jarringly placed within the action of Hannah Chissick's production. It's interesting to note that Chissick is also credited as being dramaturg as well, perhaps a notion that prevents the rigorous kind of objective challenge to the writing that is so desperately needed here. Philip Whitcomb's stage design is functional and atmospheric but is not enough to cope with the industrial-sized space of Ally Pally.
Thankfully, there are some superb performances from a hard-working company of performers. Sam Ferriday sings with a terrific control and does his best to bring some emotion to Thomas Percy. Nicole Raquel Dennis is frustratingly prevented from exploring the devastating aftermath of Martha Percy's personal tragedy but shines as bright as a rocket with some sensational vocals. Gabriel Akamo's rapping Fawkes is impressively present on stage but is often too unintelligible to fully grasp what he's singing. Oscar Conlon-Morrey gloriously camps things up as the slimy Robert Cecil, funny and punchy but woefully underused. Joe McFadden is tentative as King James in a role that has been too vaguely written and is neither villainous nor funny and ultimately results in just being uninteresting. Connor Jones makes strong work of an emotionally charged Robert Catesby.
At a time when we continue to be consumed by political and religious divide, this remains a story that can be relevant. Historical musicals that are full of fact and drama can work – you know the one I'm thinking of – so there is still perhaps time to save this musical. For now though, this is not one that I will remember, remember beyond this November.