Three Little Pigs (Tour – Goole Junction)
Simultaneously with a busy main stage programme, Northern Ballet is taking Three Little Pigs on a 20-venue tour with a geographical spread from Stirling to Southampton, mostly single days with three performances in a long afternoon.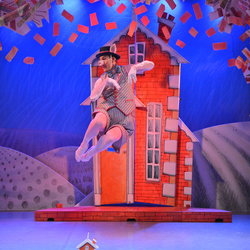 Goole Junction is an attractive and welcoming venue, but with limited stage space so that the advance publicity warned that the full set could not be used. With no wing space and the band squashed into a corner, improvisation was in order, but the result was still a delightfully fresh and skilled piece of story-telling in dance and mime, with the occasional sound of a panicking pig or a wolf in huffing and puffing mode.
Three Little Pigs is a half-hour piece for the very young, devised, choreographed and directed by two soloists from the main company, Hannah Bateman and Victoria Sibson, and supported at Goole by workshop sessions. It's danced by a talented cast of five: the three pigs and the wolf plus Mother Pig doubling as a bright-eyed and bushy-tailed rabbit.
At close range, the characterisation is vivid and comically expressive, aided by the witty costumes designed by the two directors. The three little pigs are as naive and as pleased with themselves as you could wish, the first two indulging themselves in joyous solos immediately before succumbing to the wolf. Silent film gestures and pert dance routines combine with the ballet steps to tell the story clearly and appealingly, while the wolf prowls menacingly until he is ultimately undermined by a merciful shortage of breath.
The music, arranged by John Longstaff and played by an accomplished quartet, is as bright and light-hearted as the choreography. Mainly arrangements of light music pieces, it has plenty of tongue-in-cheek moments, such as opening with "Who's Afraid of the Big Bad Wolf?" (daringly obvious) or switching into Dick Barton mode for "The Devil's Gallop".
The fun extends to the setting (design Ali Allen). The basic staging may have been reduced at Goole, but the houses look good and fall apart splendidly and the garden gnomes have their moment of glory when the wolf attempts to disguise himself as one.
Three Little Pigs can be seen at the following venues in Yorkshire and the North East (all two or three performances commencing in early afternoon)
22 March – The Maltings, Berwick-upon-Tweed
25 March – Barnsley Civic
27 March – St George's Hall , Bradford
28 March – Bridlington Spa
29 March – Cast, Doncaster
2 April – Gala Theatre, Durham
8 April – Harrogate Theatre
17 April – Lawrence Batley Theatre, Huddersfield