This May Hurt a Bit (Tour – Bury St Edmunds)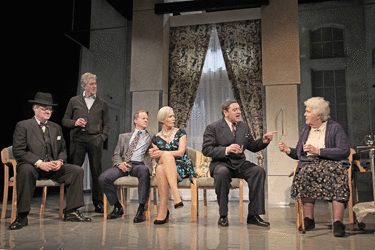 The time span is from 1948 to the present. The subject is the National Health Service. The characters range from its initiator Bevan to the Whitehall and Downing Street bureaucracy attempting to remould it, wrapping themselves around the story of one family's experience of its highs and its lows.
Tim Shotrall has designed a set which, with the aid of Jason Taylor's lighting and Andy Smith's soundtrack, blends the different elements of script and staging into a coherent whole. The audience accepts instantly both the naturalistic and the surreal aspects as they intercut each other.
The performances match, from Stephanie Cole's matriarch Iris, her contrasted children Mariel (Jane Wymark) and Nicholas (Brian Protheroe), to deft sketches of Bevan by Hywel Morgan and of Churchill by Tristram Wymark.
Frances Ashman and Natalie Klamar stand for different aspects of the NHS, with William Hope blustering across in full opposition flow as Mariel's husband Hank. With the exception of Cole, all the cast play several, often contrasted roles.
Protheroe's Prime Minister, faced with multi-page dossiers, Budget deficits and the prospect of a more than usually raucous Parliamentary session, Ashman's sad patient on an under-staffed geriatric ward and Klamar's sympathetic immigrant nurse all have impact.
Hope also appears as a civil servant who knows that Whitehall continues whoever comes and goes in Downing Street and as the Grim Reaper himself. Wymark offers an uncomfortably detailed portrait of a stroke patient and Morgan contrasts a prisoner attending an urology out-patients department with a sympathetic paramedic.
This May Hurt a Bit runs at the Theatre Royal, Bury St Edmunds until 15 March and then tours nationally until 10 May. There is a London season at the St James Theatre 14 May to 21 June.