Frank McGuinness's libretto for Julian Anderson's new opera is a drastic condensation and re-ordering of Sophocles' three Theban plays, running for just 100 minutes, with the whole of Antigone reduced to a little over 20 minutes. It couldn't be terser or more to the point and McGuinness renders great swathes of speechifying in short, pointed sentences that somehow capture the monumentality of the original.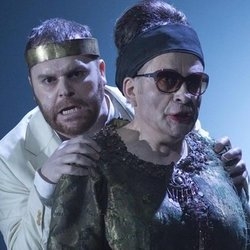 Anderson's score is equally effective, dramatically and musically muscular with textured and layered orchestrations that constantly move the action on. Even the more contemplative middle play, Oedipus at Colonus, here placed last, is dynamic and full of drama. This repositioning into a non-chronological narrative helps integrate Antigone's tragic fate into Oedipus's story.
What we now get are three sections designated PAST, FUTURE and PRESENT, with the protagonists dying at the end of the second only to be resurrected for the final act. Other than this playing with time, the adaptation is pretty straightforward with no real digressions from Sophocles's plot, although there's an inevitable pruning of detail.
If there's a weakness in Anderson's composition it's in the vocal lines, which sound spontaneous (as in improvised on the spot) and arbitrary; but the same could be said of the vocal writing of much more experienced opera composers like Harrison Birtwistle. The orchestral writing is often thrilling and the choral sections outstanding.
New opera at ENO has been hit and miss in recent years (Glanert's Caligula for instance was something of a dog's dinner) but Anderson's composition, his first in the operatic arena, is perhaps more worthy of unqualified recommendation than any new work since Birtwistle's fabulous The Mask of Orpheus almost 30 years ago. That's high praise indeed.
It's all helped by Pierre Audi's exemplary staging (surprisingly his first for ENO) with elegant sets and superb lighting by Tom Pye and Jean Kalman. Everything is taut, sharp and focused, with performances to match. Roland Wood is a Lear-like Oedipus and Julia Sporsén's Antigone impresses more than any of her recent ENO appearances.
The excellent Peter Hoare struts and glowers a little obviously as Creon (in the same way that his blackshirted totalitarian court feels overly familiar) but sings with the utmost clarity, and there's strong support from the likes of Susan Bickley as Jocasta, counter-tenor Christopher Ainslie in multiple roles and Matthew Best as a strangely transsexual Tiresias. Anthony Gregory's Haemon and Jonathan McGovern's Polynices are also worthy of special mention.
This is a work that, like Birtwistle's The Minotaur, deserves repeated hearings and time will be its best judge; but in case there are no future revivals, too often the case with new operas, you're urged to see it while you can.
– ENO