Theater Camp review – Ben Platt and Molly Gordon musical mockumentary makes it over the line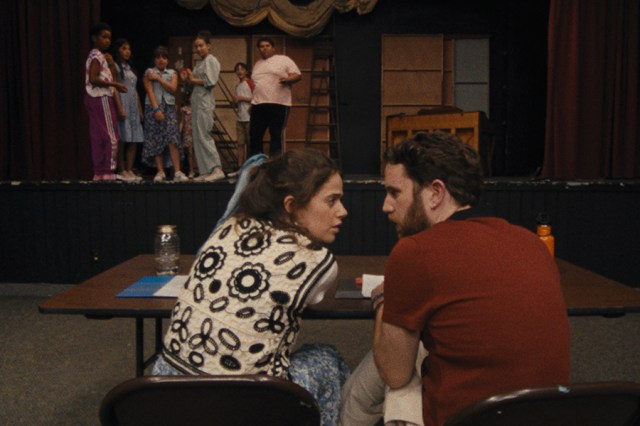 Ah the mockumentary – a trope-laden, low-budget art form that cashes in on dead-pan delivery, oddball characters and leaping headfirst into the messy hypocrisy of everday life.
Those dealing with the arts and creatives are far from rare – Spinal Tap, Best in Show, Brothers of the Head, Popstar: Never Stop Never Stopping all quickly springing to mind – meaning it's never easy for a newcomer, like Theater Camp (directed by Molly Gordon and Nick Lieberman, based on a short film they made a few years ago), to carve out a niche in such a dense field.
Which, in a way, makes Theater Camp a relatively impressive feat – watchable, funny, laden with musical gags and comedy beats, while still plucking out some relatively well-earned character-driven beats. 
Here, the story is set on AdirondACTS – a rural New York State camp threatened with closure when its founder Joan (an underused Amy Sedaris) is put into a coma after watching an excessively lit school production of Bye Bye Birdie. Stepping into the fray is theatre naif Troy (Jimmy Tatro), Joan's son and all-out clueless wannabe businessman. 
Of course, a camp needs its counsellors, and in the case of AdirondaACTS they come in the form of Ben Platt's head of drama Amos, and Gordon's head of music Rebecca-Diane. A cautionary tale for those who dreamt big and landed small, the tragic undercurrent of creatives desperately searching for affirmation is almost cringe-inducingly unwatchable (while also incredibly funny). There's equally great work from The Bear's breakout star Ayo Edebiri, who bluffed her way into a job without knowing anything tangibly useful about performance work, while Noah Galvin provides some soul-enriching sequences as the story progresses.
Gordon and Lieberman hold back on being overly sentimental until the film's close (an engineered tear-jerker number that the camp's children perform, titled "Camp Isn't Home"), drip-feeding audiences with sardonic and surreal plot beats. In a way, it can feel as though they play it safe, trusting in the formula rather than trying to reinvent the wheel. 
A comedy about musical theatre is the classic case of low-hanging fruit. The arts world is chock full of eccentric creatives, die-hard fans and overtly flamboyant figures, narcissistic yet, miraculously, never unlikeable. The pertinent point about the arts world being overridden by corporate greed is also well-positioned, while the need for safe spaces for queer creatives is notable. 
As it stands, the best gags lean into the absurd reality of being a theatre kid – and WhatsOnStage readers will no doubt be lapping this one up in spades.