The Way Old Friends Do in the West End – review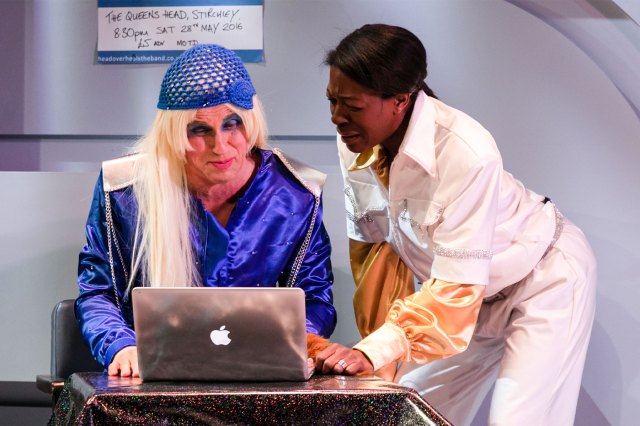 I didn't see The Way Old Friends Do during its Park Theatre run earlier this year but I wonder if the intimate auditorium plus the chronological proximity of two of the most beloved events in the LGBTQ+ calendar made audiences and critics feel more indulgent towards Ian Hallard's ABBA-infused comedy. In a conventional West End theatre (although the Criterion is hardly a barn) and without the twin gay Christmasses of Pride and Eurovision just around the corner, it looks pretty threadbare, especially in Mark Gatiss's patchily acted production.
Hallard, a likeable stage presence and a better actor than he is a writer, plays ABBA-obsessed Brummie Peter who reconnects with former school friend Edward (a wearyingly arch Anton Tweedale) when they unwittingly chat each other up on a gay hook-up app. They go on to form an ABBA tribute act when the pre-booked one at a local theatre cancels last minute. The stakes don't get much higher than that, although it feels like they should when opportunistic Aussie hunk Christian (Andrew Horton, all muscles, teeth and wavering accent), also a fan of the Swedish supergroup, tries to drive a romantic wedge between the two of them. However, it's never clear exactly what his motivation is, beyond getting his hands on their godawful club act.
A watchable if undistinguished first half, set in 2015, gives way to a second act that strains credulity and is neither as hilarious nor as poignant as it needs to be, and ends up in the post-pandemic era. Hallard dripfeeds ABBA lyrics into the dialogue, which is a nice touch for aficionados and provides a bit of much-needed flavour to a text laden with innuendo, repetition and sentimentality, but relatively short on wit or originality. He also gives whiney posh boy Edward a drink problem and an unseen much older husband, and Peter a doting grandmother, also unseen, but voiced exquisitely in a succession of voice calls by the incomparable Miriam Margolyes, whose participation makes almost everything else look even more inadequate. You know that a play is in trouble when the most sympathetic and interesting character's presence is entirely pre-recorded.
Although there's an unappealing touch of misogyny about the script ("I'm not gay, I just can't find a boyfriend" says Rose Shalloo's eager Björn impersonator Jodie, and there's an unfunny quip about lesbian oral sex and the possible after effects of a rough fake beard), the women still fare better than the men. Shalloo finds real charm in Jodie's shrill gaucheness and Sara Crowe has the comedy chops to rise above the unconvincing, only intermittently funny, writing for the buttoned-up eccentric Scottish pianist who unexpectedly finds herself impersonating ABBA keyboard player Benny. Donna Berlin invests a lesbian stage manager trying via IVF for a baby with her partner, with deadpan humour and a sense of genuine kindness and fragility beneath the no-nonsense attitude.
A play this flimsy and slight should be presented with the lightest of touches but that doesn't happen here, and the whole enterprise remains resolutely earthbound, although there are a couple of laugh-out-loud funny lines, and a nice voiceover from the late, great Paul O'Grady. Janet Bird's cheap-looking set features a revolve that moves so slowly during scene changes that it saps energy and pace from Gatiss's staging. A bizarre "Dancing Queen" finale wraps up proceedings.
The whole thing is lacking in inspiration and heart; it's not funny enough to be a jolly romp, and ABBA fans would be better off at Mamma Mia! or ABBA Voyage. Nor does it make much effort to contextualise or consider the compulsive nature of extreme fandom. The overriding impression is of watching an underdeveloped, somewhat niche, sitcom about friendship, before the canned laughter track has been added. Hallard's dodgy S&M farce Horse Play at Riverside Studios last year was a challenge to sit through but this is little better.