The Seagull (Open Air Theatre)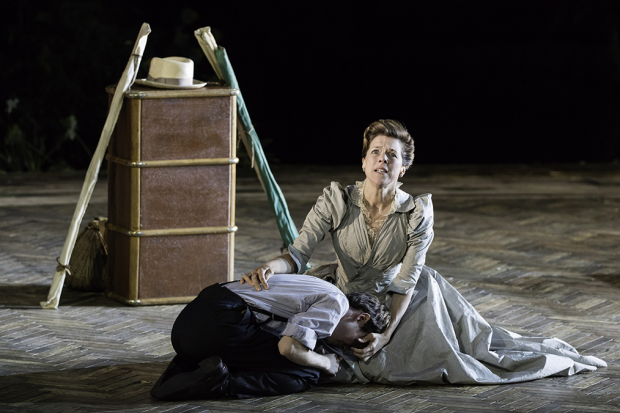 Chekhov for Dummies at Regent's Park – or is it something else? Certainly, this Seagull is so big and broad that it might be better titled The Albatross, but Torben Betts' flyweight adaptation serves as an accessible, enjoyable account of the play that might well spark a theatregoing habit or two.
In the idyllic setting of Regents Park, where trees rustle in the wind and ducks occasionally invade the stage, Betts stresses the delights of an uncomplicated life. An enormous mirror looms overhead in Jon Bausor's first-rate design, towering over a lush green lawn, and below it, the self-regarding lot gathered at Sorin's country estate struggle to stop and simply inhale their beautiful surroundings.
Matthew Tennyson's Constantin, a soft-spoken waif desperate for literary acclaim, frets anxiously about his radical garden play. His wouldbe star Nina (Poldark's Sabrina Bartlett) trots about prettily, forever fishing for compliments. Both are children of the bourgeoisie bought up to believe in their own brilliance, utterly aghast at the prospect of ending up – ugh – ordinary. Little wonder with Janie Dee's arch Arkadina holding court, challenging Masha (Lisa Diveney) to a catwalk competition and using an employee as a ballet bar.
The self-consciousness isn't simply ego, though. Without success, there's no sustaining this lifestyle and Betts stresses that this is the squeezed middle. It's not just Colin Hoult's schoolteacher who babbles on about his earnings (though he speaks of nothing else), everyone here feels that they're struggling: the actress with plenty to pay for posh frocks, the retired doctor just back from a holiday, the landowner whose farm-manager insists on re-investing his profits. Cashflow keeps them all from contentedness.
The irony is that they are so un-self-aware and all the while their two servants are tittering at their petty, preening snobbery. They go virtually unnoticed, even when hopping into the onstage lake for a quick skinnydip.
That's a measure of the larkiness of Betts' adaptation, which abandons all subtext for the sake of breeziness. Everyone here shows their hand – "I'm am so in love with this girl," moans Constantin – and too often the text earns its laughs by over-simplifying characters. Dee's Arkadina goes full-on Fatal Attraction as she chases Trigorin (Alex Robertson) around the stage, unbuttoning her blouse and laying prostrate at his feet. "Did you just say I was a great writer," he replies. Matthew Dunster's direction often doubles up on that: Dee flounces off in a full-blown strop, Diveney drinks like Pete Doherty. Only Danny Webb and Ian Redford, as the pensive old men, find a measure of quiet contemplation and credibility.
Chekhov done properly, brooding and tight-lipped, can't survive in this sort of space. It's less the size – the Moscow Art Theatre where it premiered sat 1300 – as the openness, and as everyone telegraphs, the play hollows out. It both defies and fulfils its own theory of art, though, being both completely untruthful and completely unpretentious.
The Seagull runs at Regent's Park Open Air Theatre until 11th July.