The Saints (Nuffield Theatre)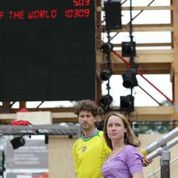 As part of the Art at Heart festival in Southampton the Nuffield is putting on a play, The Saints, celebrating Southampton F.C.. All performed within a temporary outdoor theatre in the form of the St Mary's Stadium. An impressive structure, the seats are on both side of a traverse stage, along with two commentators' boxes and two large screens. My only suggestion would be to signpost for the audience where the entrance is.
The Saints celebrates not only the club and its history, but also how it shaped the lives of its fans. Based on accounts from real life fans the play introduces Cary Crankson as the world's biggest Saints fan, Kenny Glynn. We follow him from his childhood in the 1990s right through to the near future in 2015, as he faces the challenges the world throws at him.
An inspiring story indeed, if it was interesting!
Kenny is presented as the underdog character, but we barely see any character development. Despite being told by his guardian angel (in the form of Matt Le Tissier) to think of others instead of himself, he only takes that on board in the final scenes. And it's hard to emotionally invest in him when he continuously gets into some awkward and embarrassing situations.
Watching this on its final preview I wondered whether the play knew what it wanted to be. The second half of the first act literally skims over most of the 2000s. Understandable if a play celebrating the Saints wants to give a brief overview of those troubled years, but that's nearly a decade of Kenny's life we skim over.
The rest of the cast do the best with the characters they have. There are some charming performances from Claire-Louise Cordwell and Scarlett Alice Johnson as Kenny's mum and girlfriend. The scenes with Kenny's friends are enjoyable to say the least. However most of their appearances are short and the play doesn't give them time to develop.
Altogether this is a rather half-baked play. You barely learn about the club, it's representation of the fans is sketchy at best, and characters scarcely get time to develop. There are even some inappropriate moments and jokes that I was surprised were included. I left thinking 'is this really the best celebration of Southampton FC and its fans that the Nuffield could come up with'.