The Prince Edward becomes first West End theatre to receive National Autistic Society Award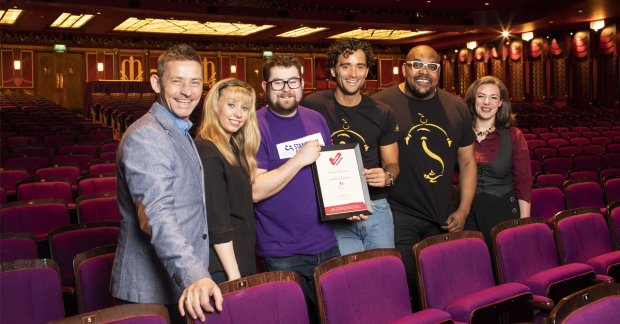 The Prince Edward Theatre on Old Compton Street, London has become the first West End theatre to receive an award from the National Autistic Society, honouring its efforts in welcoming autistic guests and their families.
Run by Delfont Mackintosh Theatres, the Prince Edward is currently home to Disney's Aladdin, and has been commended for its autism training, staff awareness and initiatives, including autism-friendly performances – designed to make the show more accessible for those affected by autism.
The dedicated performances provide modifications to the booking process, performance and the theatre environment, including designated quiet and activity areas throughout the theatre and autism experts on hand should anyone need to leave their seats. Changes to the performance include the reduction of jarring sounds or strobe lighting that face the audience.
Chris Pike, autism access specialist at the National Autistic Society, said: "There are around 700,000 autistic people in the UK, and many struggle to cope with unfamiliar places and everyday sights and sounds which others are able to filter out, such as artificial lighting, background music or traffic noise.
"Aladdin's production team have taken great care in adapting the show… This means that for some… this will be the very first time that they are able to experience the thrill of a live performance."
Another autism-friendly performance is scheduled for the matinee performance on 28 August.