New casting announced for Aladdin in the West End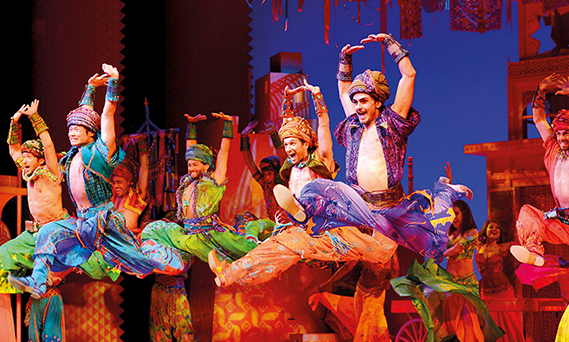 Fourteen new cast members will join the West End production of Aladdin, which is about to enter its third year in the West End.
Joining Matthew Croke (Aladdin), Jade Ewen (Jasmine), Trevor Dion Nicholas (Genie), Leon Craig (Babkak), Irvine Iqbal (Sultan) and Daniel de Bourg (Kassim) in the show will be Fred Johanson (Jesus Christ Superstar) as Jafar and Julian Capolei (Tommy) as Omar. Jermaine Woods (Bugsy Malone) will take on the role of Iago, having previously covered the role.
The full company will also include Koko Basigara, Robertina Bonano, Danny Becker, Angeline Bell, Bianca Cordice, Abigail Climer, Nolan Edwards, Melanie Elizabeth, Nordine Ezzahr, Antony Hewitt, Blythe Jandoo, Abigail Johnson, Travis Kerry, Dann Kharsa, Victoria Layzell, Mitch Leow, Oliver Lidert, Phil Mennell, Richard Murphy, Ian Oswald, Tarisha Rommick, Kyle Seeley, Dominic Sibanda, Ricardo Spriggs, Joshua Steel, Kevin Stephen-Jones, Kayleigh Thandani, Justin Thomas, Damien Winchester and Niko Wirachman.
The musical, based on the 1992 animated film, has music by Academy Award winner Alan Menken and lyrics by Howard Ashman, Tim Rice and Chad Beguelin (who also supplies the book). It is directed by Casey Nicholaw and has design by Bob Crowley, lighting design by Natasha Katz, sound design by Ken Travis and costume design by Gregg Barnes.
When Aladdin first debuted in the West End, critic Sarah Crompton said that it was "a show that by the sheer force of its geniality, works its magic."