The Moonwalkers: A Journey with Tom Hanks to premiere in London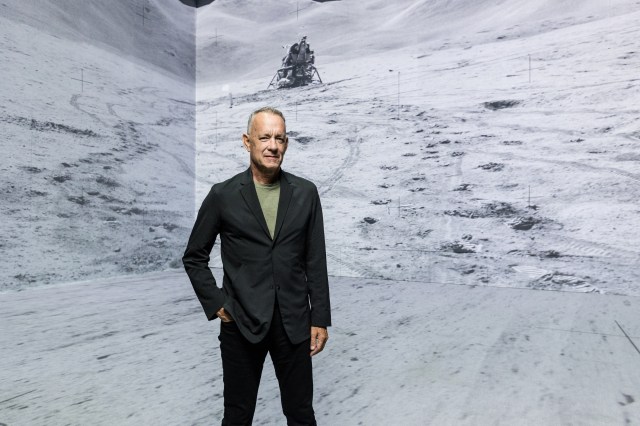 London's Lightroom will house the premiere of The Moonwalkers: A Journey with Tom Hanks from December.
Written and narrated by Hanks, the immersive experience is said to offer a "unique perspective on humankind's past and future voyages to the moon."
The piece, co-written by Christopher Riley, will also utilise original NASA footage alongside images from Andy Saunders' Apollo Remastered, the highest-selling book about the Apollo programme, and newly filmed interviews between Hanks and astronauts of the current Artemis programme. It will also feature an original orchestral score by Anne Nikitin (Hijack).
The Moonwalkers is directed by Nick Corrigan and Lysander Ashton and designed by 59 Productions, with Saunders serving as a consultant producer.
Hanks, who starred as astronaut Captain Jim Lovell in Apollo 13, has served on the Board of Governors of the National Space Society and has been honoured by the Space Foundation, commented: "Growing up as humankind was first going to the moon, I was transfixed by the Apollo missions and dreamed of making the voyages with the astronauts. I've worked on several projects that have attempted to bring alive the breathtaking scale of going to the moon and the razor-edge drama of each journey, each chapter of Apollo. The extraordinary and unique production capabilities of Lightroom allow me, alongside Christopher Riley, to tell what we believe is the most visceral and enthralling story to date of humanity's journeys beyond our earth, including a unique insight into the next time human beings will walk on the moon: the Artemis missions."
Hanks previously produced the HBO miniseries From the Earth to the Moon, and also co-wrote IMAX film Magnificent Desolation: Walking on the Moon 3D.
Lightroom's CEO and producer of The Moonwalkers, Richard Slaney, added: "Lightroom's mission is to create new kinds of experiences with the world's greatest creative voices, using groundbreaking technology to tell stories for everyone. Tom Hanks is an icon, with unparalleled experience of great cinematic storytelling, and has a true passion and expertise for the history of space exploration. Alongside a world-class international creative team, he's the perfect person to bring to life the Apollo and Artemis missions as never before and unlock even more of Lightroom's potential. It seems timely to be telling this story now as countries from across the world launch missions to understand more about our closest celestial neighbour."
The Moonwalkers: A Journey with Tom Hanks opens on 6 December.