The Grönholm Method at the Menier Chocolate Factory: first look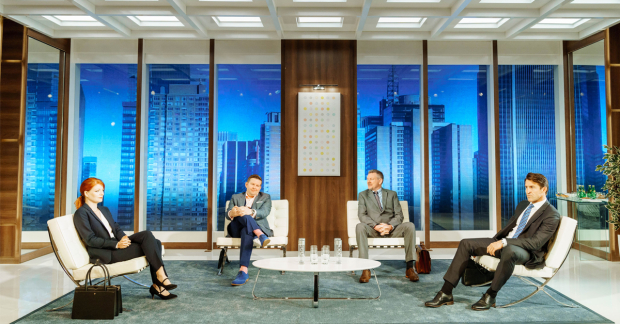 Images have been released of the UK premiere of Jordi Galceran's The Grönholm Method, which opens at the Menier Chocolate Factory later this month.
Making his UK directorial debut, BT McNicholl directs Jonathan Cake (Desperate Housewives), Greg McHugh (Fresh Meat), Laura Pitt-Pulford (Seven Brides for Seven Brothers) and John Gordon Sinclair (The Ladykillers).
Running from 22 May to 7 July, with previews from now, the 2003 Spanish play is set in the New York office of a Fortune 500 company, where four job interview candidates jostle and play each other for their own ends.
The piece debuted in Barcelona and has since had productions in over 60 countries. It now appears in a translation by Anne García-Romero and Mark St Germain.
The Grönholm Method has set and costume design by Tim Hatley, lighting design by Howard Harrison and sound design by Gregory Clarke.