The Effect at the National Theatre review – Jamie Lloyd's revival is a rivetingly intelligent evening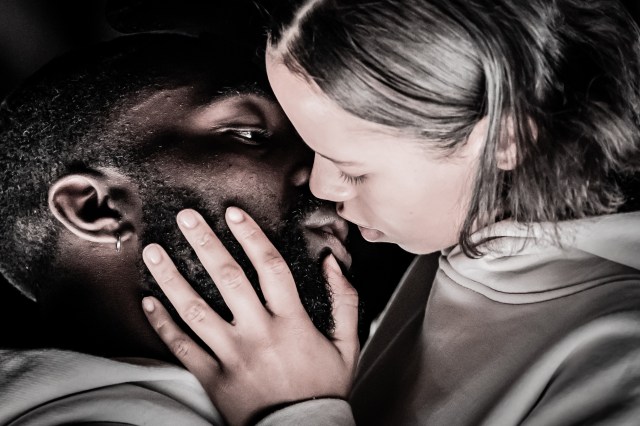 It's been too long since Lucy Prebble has written a play. The writers' room for television's Succession has claimed her attention for the past five years and seeing this revival of her 2012 drama The Effect makes you realise just how much theatre has missed her razor-sharp writing, her willingness to play with form to tackle huge subjects in a small space.
It's brought to the stage by another major stylist, Jamie Lloyd and the result is a rivetingly intelligent evening, set by Soutra Gilmour on a traverse stage that splits the Lyttelton in two, suddenly transforming its tricky proscenium arched stage into a thrilling space of exploration.
The Effect is set in a clinic where two volunteers – Paapa Essiedu's "Hackney before it fell" charmer Tristan and Taylor Russell's uptight Canadian psychology student Connie – meet in a blind drug trial which perhaps isn't as controlled as it ought to be by psychiatrists Drs Lorna James (Michele Austin) and Toby Sealy (Kobna Holdbrook-Smith).
As Tristan and Connie flirt, reveal themselves and fall in love, neither we nor they know whether their feelings are induced by the antidepressant they are taking or are arising spontaneously. This raises all sorts of larger ethical questions: what is love, in any case, other than a series of signals in the brain? Can medical science intervene to make people feel happy all the time?
Crucially, are pills the panacea for everything or – as Lorna who is in the grip of her own battle with depression remarks – are the depressives the truth-seers? "I don't think we are depressed, I think we're right. Shit is depressing," she says. "The world's literally on fire and we're calling people ill and profiting from it."
Prebble has subtly updated the play to address issues of race and the power of Big Pharma to condition the conversations around depression. In one devastating exchange between the two supervising doctors, who have a tangled history to resolve, Toby asks whether Lorna's objection to antidepressants is a political act. "I'm a working-class Black woman," she shoots back. "Getting out of bed is a political act."
Though Prebble makes these broader points forcibly, they never seem schematic. Part of the power of the play is that it raises as many questions as it answers, and values emotion just as much as debate. The relationships may play out in a quasi-scientific setting, but the depth of the feelings on display and their repercussions are profoundly moving. The dichotomy between science and passion is emphasised by the way a brain sits in a plastic bucket on the stage throughout; it seems inert and explicable, but in animated action, it causes havoc.
Lloyd's stylised production underlines both debate and sensation by laying Prebble's arguments bare, increasing intensity by a focused simplicity. The actors are for the most part still, pinioned in boxes of bright light by Jon Clark, talking against a pulsing soundtrack by Michael 'Mikey J' Asante. But when they move, it is always significant: when Connie and Tristan escape their rooms to explore their relationship in the setting of a former asylum, they are surrounded by billowing smoke; when they come together in an act of forbidden passion and discovery, movement directors Sarah Golding and Yukiko Masui choreograph a series of poses that switch in swift blackouts; when the experiment begins to go wrong, the doctors begin to pace and circle one another, having unleashed forces beyond their control.
Such an approach requires acting of the highest calibre and it gets it from four superb exponents. Essiedu's progress from bantering joy to broken confusion is beautifully charted, his body as expressive as his face and voice, all light dancing feet at first, through paranoid twitching, to sadly sluggish decline. Russell, star of Bones and All, makes an impressive stage debut, growing in assurance as she charts Connie's different journey from doubt and sadness to a kind of shining belief in love.
Holdbrook-Smith is a marvellously slimy Toby, his voice as thick and irresistible as treacle, his value system distorted by the effects of a background that he only acknowledges as a sophisticated joke. And as Lorna, Austin is simply magnificent. She is the kind of actress who seems to go beyond performance into a sense of simply being; here she is funny, biting, self-aware and tragic by turns. Utterly compelling. Like the play itself.