Taking Charlie (Tour – Salford)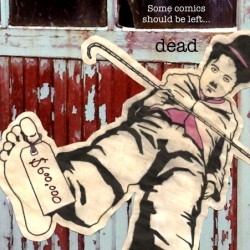 Goofus are a new theatre company undertaking their first tour.Taking Charlie, their chosen play, is based on an incident so bizarre it can only be true.
The legendary comedian Charlie Chaplin died on Christmas day in 1977 and a pair of immigrant car mechanics residing in Switzerland exhumed his body and demanded a ransom of £400,000, intending to use the money to start a car repair service.
Writer Neil Warhurst does not follow the increasingly popular trend for verbatim theatre and instead uses the facts of the incident as the starting point for a fictionalised version. Unfortunately, it seems that Warhurst's fiction is much less interesting than the actual events, as the play is crowded with clichés. Stephan, the instigator of the plan, is a bully who intimidates the weak-minded Alex into taking part and steals funds from his naïve wife.
The basic idea of criminals who are too dumb to spot the flaws in their plan or to appreciate its obscenity has been covered in movies, as has the supposedly funny sequence of the kidnappers being forced to offer a discount on their original asking price.
No effort is made to determine how anyone could rationalise such a monstrous plan and the underlying irony – that Chaplin's films were a source of comfort to the immigrants in their native land – is not explored. There is also padding in the script, with an Of Mice and Men type sequence repeated.
Director Andy Williams avoids the obvious and does not stage the play in the manner of Chaplin's movies. The extreme nature of the material would suggest that a subdued approach might be the best way of avoiding going over the top.
However, Williams struggles to find a consistent style and at times comes horribly close to the hyperactive approach of children's television, with the three members of the cast bounding across the stage with fixed manic grins. The cast certainly throw themselves into the play with enthusiasm, but the nature of the material and the staging makes their efforts seem strident.
There have been great advances in the use of puppets and projections to enhance theatre productions. The use by Goofus of some very basic silhouettes and cardboard cut out animals may be intended to be an ironic comment on these more lush productions, but also seems unimaginative.
The subject matter has great potential for a dark comedy, which is not realised in a flat script and inconsistent staging.
Taking Charlie is at the Lowry until 29 April.
– Dave Cunningham