Stephen Mangan misses Perfect Nonsense performances due to pneumonia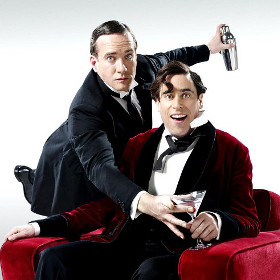 Stephen Mangan
has been forced to withdraw from several performances of
Jeeves and Wooster in Perfect Nonsense
due to contracting pneumonia.
The Green Wing star was ill last week and "soldiered on", but was forced to miss two performances on Saturday (16 November 2013), which were cancelled.
A representative for the show, which is running at the Duke of York's Theatre, said that performances will continue this week with understudy Edward Hancock taking Mangan's place as Bertie Wooster.
Penned by siblings Robert and David Goodale, Perfect Nonsense is adapted from PG Wodehouse's The Code of the Woosters (1938), the first installment in the Totleigh Towers saga.
Writing on Twitter, Mangan, who stars opposite Matthew Macfadyen as Jeeves, sent "huge apologies" for his absence.
My manflu turned out to be pneumonia. Huge apologies to those who had tickets for the 2 cancelled Saturday shows.
— Stephen Mangan (@StephenMangan) November 18, 2013
Listen to our recent post-show Q&A with Mangan, Macfadyen and director Sean Foley