Spring Awakening (West Yorkshire Playhouse)
Frank Wedekind's Spring Awakening is one of theatre's unseen classics. First staged in 1906, some 15 years after it was written, it has surfaced at wide intervals since, frequently withdrawn on the grounds of pornography. And, watching Headlong's new production, it is not difficult to see why. The range of once taboo subjects is comprehensive: masturbation, rape, abortion, homosexuality, suicide, not to mention obscene language and drugs which may have been added in Anya Reiss' version – and all with a cast of 14-year-old characters.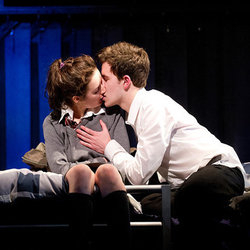 There is a difficult decision to be made when reviving a long-neglected play: do you stay close to the original so that the audience can see the unfamiliar, or do you attempt to rescue it by imaginative updating? Headlong takes the second option, and Reiss and director Ben Kidd are certainly imaginative, but this creates its own problems.
The repressive society of late 19th-century Germany offers a more convincing context for the fantasies and, especially, the sexual ignorance of the boys and girls. Furthermore, though Wedekind's play famously uses many short scenes, most of which Reiss preserves, it's hard to believe that his three-acter whizzes by at the rate of Headlong's 95-minute play. With so many short scenes, so much broken or interrupted dialogue and one or two actors of variable clarity, the narrative is initially blurred.
On the other hand, I suspect this is a production for the young, with their sharp ears and shifting focus. There is much to admire in it. Reiss' adaptation is clever in many ways, not least the use of Google, emails and social media – not just the obvious indicators of updating, but the drivers of several crucial late scenes. Her ingenuity is also obvious in the distribution of characters.
Much reduced from Wedekind's, her cast-list contains four boys and four girls, seen initially as a school/playground unit. They also play the five adult characters Reiss retains, but take the parts not as actors, but as the kids. This leads to some irritatingly silly squabbling about who's doing the part or how she should look, but also enables some striking moments when the younger generation interrogates the failings of the old.
Kidd's direction is full of energy, with in-your-face lighting and sound and inspired use of Ian William Galloway's videos. As the teenage follies lead to tragedy, there is less sound and fury and the performance gains real power.
Colin Richmond's designs work from the entire bare stage expanse, filling it most often with playground swings, beds and a lavatory. The eight actors work nobly as an ensemble, though individual characters do not always come over strongly.
Spring Awakening plays the West Yorkshire Playhouse until 22 March, then tours, returning to the North East at Northern Stage, Newcastle (20-24 May).