Sheffield Theatres reveals new shows for 2024 including The Crucible… at the Crucible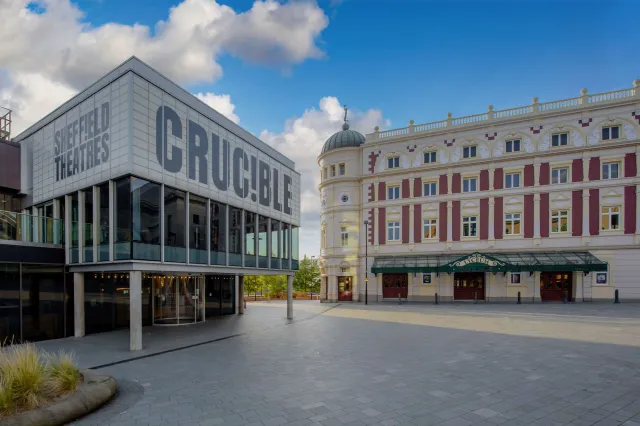 Sheffield Theatres has confirmed three new productions for 2024.
Associate artistic director Anthony Lau (Miss Saigon) is set to direct a brand-new revival of Arthur Miller's classic The Crucible (which was recently staged at the National Theatre, before transferring to the West End's Gielgud Theatre). Rather fittingly, the play will run at the iconic Crucible Theatre from 2 to 30 March 2024, with a press night set for 7 March.
In addition, two shows have been announced for the Tanya Moiseiwitsch Playhouse. Firstly, Sheffield Theatres and Theatre Centre will co-produce the world premiere of Wish You Weren't Here, written by Katie Redford and helmed by Theatre Centre's artistic director Rob Watt. The piece explores growing up, single parenthood and the notion of finding your way in the world as women.
It is scheduled to run from 24 January until 10 February 2024 (with a press performance on 25 January), before touring schools across Sheffield.
Secondly, Roots Mbili Theatre return with the world premiere of Lines, created by Junaid Sarieddeen, John Rwothomack, Fidaa Zidan and Alexandra Aron, with additional writing by Asiimwe Deborah Kawe. The play revolves around five prisons in Uganda, Palestine and the UK over the span of five decades, running from 27 February to 9 March 2024, with a press night on 29 February,
Robert Hastie, artistic director of Sheffield Theatres, commented: "With this new season of shows, we are delighted to share with audiences bold new work in the Playhouse, and a timeless classic on our Crucible stage.
"The Playhouse continues to offer our audiences thrilling new writing and theatrical adventures. Headlining our spring season are a mother and daughter trip to the seaside and a journey into the lives of prisoners around the world.
"It's always a joy to welcome back Theatre Centre who make brilliant work for younger audiences, as we co-produce a third production with them in their 70th anniversary year. Wish You Weren't Here by Katie Redford tells the story of a teenage girl and her mother on a hilarious holiday in Scarborough, including highs, lows, and uncomfortable truths, and plays in both the Playhouse and in schools around the city.
"Lines is an international collaboration developed by Sheffield-based Roots Mbili, and we are proud to support this trailblazing company as they build on the success of John Rwothomack's devastating Far Gone. Lines interweaves stories of post-colonial life through the bars of five prisons across the globe.
"Then, Anthony Lau, our associate artistic director, directs Arthur Miller's classic The Crucible. Miller's greatest play and the Crucible theatre are made for each other, and not just for the obvious reason that they share a name. Miller's epic story of the Salem Witch Trials gathers us together in the public forum of the theatre to bear witness to the consequences of allowing fear and dishonesty to govern our society. Staged by the team that made Sheffield Theatres fizz with their dazzlingly creative takes on Anna Karenina and The Good Person of Szechwan, this promises to be unmissable."