Samuel Sakker – operatic supersub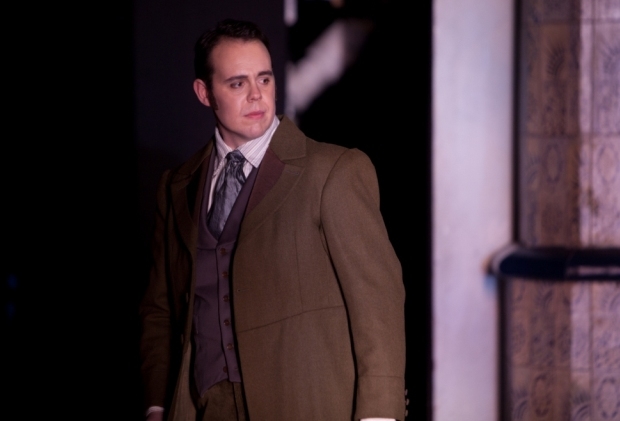 Samuel Sakker joined the Jette Parker Young Artists programme in 2014. In his first season he sang roles in I due Foscari, Un ballo in maschera and Die Zauberflöte, as well as the tenor solo in Song of the Earth for The Royal Ballet. This season he has sung Sandy/First Officer in The Lighthouse and will also be appearing as Patacha in L'Étoile, Heinrich der Schreiber in Tannhäuser and Abdallo in Nabucco.
Two weeks ago the young Australian made headlines for all the right reasons when he sang the principal tenor role of Alfredo at a few hours' notice on the first night of La traviata. It was a pitch-perfect jump-in, yet he wasn't even the official understudy.
No, although last season I did cover it, but with a different revival director. It's still in my muscle memory even though some things about this one are very different. I didn't get to see many of the rehearsals this time except when they involved Gastone de Letorières, whom I'm playing later in the run. They got me in just to watch the crowd scenes, but on the day I was more nervous about the ending. When there's a wonderful soprano who's going to fall over at any moment stricken with disease, the last thing you want is to be in the wrong place to catch her!
I've sung Alfredo before in New Zealand and in Melbourne. And I was very lucky that the conductor, Yves Abel, is such a terrific maestro – very supportive and kind. I'd heard in the morning that Saimir Pirgu was unwell; they called me in and asked me to be on standby. So I went off to rehearsals for L'Étoile thinking 'Thank goodness – I'll get a cover fee and a bit of coaching'. In the afternoon I sang through the part and talked it through with the revival director, just in case. While we were doing that he took a phone call: Saimir had cancelled and I was on. And we just carried on with it. It wasn't till afterwards that it hit me: I was going on as Alfredo on opening night of La traviata in the Royal Opera House!
Were you winging any of it?
The thing about La traviata is that when Violetta is onstage you need to be as close to her as possible, and if the father's onstage you don't want to be anywhere near him! That sorts out a lot of the staging if you don't know what you're doing. But I do know the opera very well. When I was in the chorus of Opera Australia we did something like 70 Traviatas, and I've done every tenor role in it there is to do.
It went well, although I especially love Alfredo's angry singing in act two scene two and I'd have needed some rehearsal time to do it justice. Still, suddenly I've got this piece of gold on my CV for after I finish on the Young Artists scheme, and I have the reviews to show for it.
My grandma is turning 100 on 6 March, and I had asked if it would be at all possible to attend her birthday. I was due to being singing Gastone at that time, but Luis Gomes has generously swapped performances so that I can travel. That's why I went to those early rehearsals. That way, too, I get to do the cinema broadcast which grandma can go and see in Australia.
I think it's important to keep some of the classic productions like Richard Eyre's La traviata in the repertore. I know some people say 'Oh, they're trotting out the cash cow again', but it is the gateway for people who don't go to the opera regularly. I don't think many people would go to see it and not come away with a better sense of what opera is about. It has characters you can identify with and sublime music that can sweep you up. And then people are more likely to come to L'Étoile, say, because they feel more comfortable with the medium.
Most of us know very little about L'Étoile except that it's comic nonsense.
It is nonsense, except it's very clever. I have a very small role in it, but with Sir Mark Elder in the pit it's so nuanced and refined. It has that French wafty, haughty lilt to it, and you can hear straightaway from the orchestra that it's a fun show. It's one of the first of those absurdist French comedies that probably came from drinking a bit too much Chartreuse! The director, Mariame Clément, has been very clever in the way that she's contextualised the show for a modern, English audience.
The Chris Addison factor?
Yes, he's very interesting. The characters of Smith and Dupont (Addison and Jean-Luc Vincent) are there so that the show makes a little more sense as well as being silly. It's a bit like Monty Python: anything can happen. That's what will open the door for the piece. The score is intact except for one or two clever cuts.
I only have a small role in L'Étoile: it's very different repertoire for me, and not one I've had a lot of experience with except when I sang in Poulenc's Les Mamelles de Tirésias at university. That too is silly, funny and a bit warped.
What roles have you got your eye on for the future?
I'm very lucky that a meeting with John Adams has led to my singing Mao in a concert performance of Nixon in China in the Amsterdam Concertgebouw, but I'll need a visa to carry on singing in the UK. I think I've built a reputation for reliability, and that for me is the key to a good career. I'd love to sing Don José and Pinkerton one day. Right now I think I could do a good Tamino in The Magic Flute; but really I just love to sing. I love my job.
While I've been lucky and sung a lot of roles on the main stage at here Covent Garden, the downside has been that I haven't had time to go and audition elsewhere. But I think a long game, and if next year's a slow one that allows me to get my repertoire settled. While I've been with The Royal Opera I've sung everything from Mozart to Mahler to Maxwell Davies, but now I need to consolidate the specific rep that I think people will want me for.
Before I started as a Young Artist my mum was diagnosed with cancer, and since she lived in New Zealand it wasn't easy to see her. She passed away in April, so this year has taught me how precariously we walk the middle path through life, with the highest of highs and the lowest lows. It's how you deal with it that shapes you as a person. And the Royal Opera House has been there for me in every possible way.
I went on the tour to Japan in September, which was amazing. I sang Malcolm and covered Macduff in Verdi's Macbeth, and I covered Don Ottavio in Don Giovanni. And I did another jump-in, this time for the Mozart Requiem. After some first-half concert arias Rolando Villazón decided he wasn't well enough to sing both that and a matinée the next day, so I got to jump in with no notice and sang the tenor solo with Joyce DiDonato and Ildebrando D'Arcangelo on either side of me and Tony Pappano in the pit! I was grinning like a Cheshire cat.
L'Étoile opens at the Royal Opera House tomorrow, 1 February, and plays in repertory until 24 February.
La traviata will be relayed live to cinemas worldwide on 4 February. It continues in repertory at the Royal Opera House until 6 February, then returns for a further run of performances between 1 and 19 March.