Richard III (West Yorkshire Playhouse)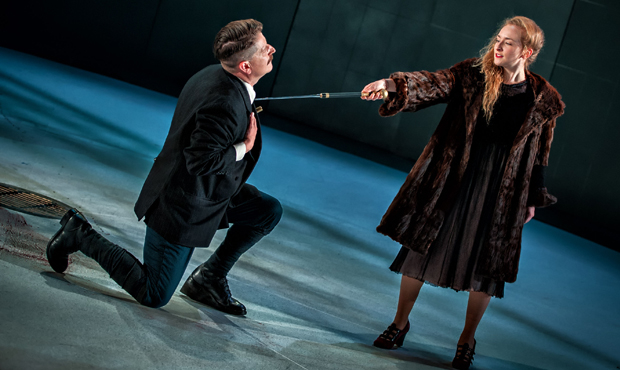 Mark Rosenblatt's expressionist production of Richard III is consistently true to its principles and motifs. The first image is of blood, abattoir workers hosing down the nearly empty stage, joined after a while by Richard, brooding over the whole thing with his withered arm, twisted leg and nasty little moustache, before launching into "Now is the winter of our discontent…" – and blood remains a major motif in a production filled with hospital beds and mortuary trolleys.
This is a metallic mechanised world and Rosenblatt misses no opportunity to emphasise that. Conor Murphy's dramatic set, mostly bare, is a vast "killing space" dominated by a lighting rig that descends from time to time to imprison the characters, literally or metaphorically. Jon Nicholls' music and sound effects clang emphatically or murmur coldly beneath the action. Sinead McKenna's lighting is given to sudden shocking changes. From time to time Rosenblatt replaces conventional dialogue with a disembodied voice on the PA or an urgent phone message. The character of Richmond is reduced to a few lines delivered over the radio as the play ends with Richard in the mortuary – we may lose what to Tudor-loving Shakespeare was the important message of good times on the way, but Rosenblatt is nothing if not consistent.
The success of the production, however, is less consistent. The pace is excellent, with ingenious over-lapping between scenes, but the story-telling is not the clearest. Despite having a fairly large cast (12), Rosenblatt is forced into plenty of doubling, some of it involving switching of gender: this, some odd costuming and variable standards of verse speaking, added to the complicated relationships in the play, can be confusing. Turning Catesby into an elegant female executive is a particularly bizarre decision, as both Jessica Murrain's two roles are male.
Reece Dinsdale achieves much as Richard, without imparting the last frisson of horror or provoking incredulous laughter at the sheer chutzpah of evil. He looks the part, moves with suitable menace and gives an intelligent and eminently watchable performance, his voice oozing irony. He savours the comedy of the part – the Lord Mayor and prayer book scene is stylishly done – but needs a more flexible delivery in some of the outrageous early scenes.
The strongest support comes from the three grieving, cursing mothers. Dorothea Myer-Bennett (Queen Elizabeth), Olwen May (Duchess of York) and Jane Bertish (Queen Margaret) all give powerful performances, with Bertish achieving a neat triple with two of the more convincing gender-switch roles, the Lord Mayor and Brackenbury.
Dale Rapley's agonised Clarence and Dyfrig Morris' hapless Hastings make the most impact among the small parts, but Ben Addis as Buckingham never brings to life his evil double act with Richard.
Richard III runs at the West Yorkshire Playhouse until 17 October.