Review: Twelfth Night / Voter's Choice (Shakespeare's Globe)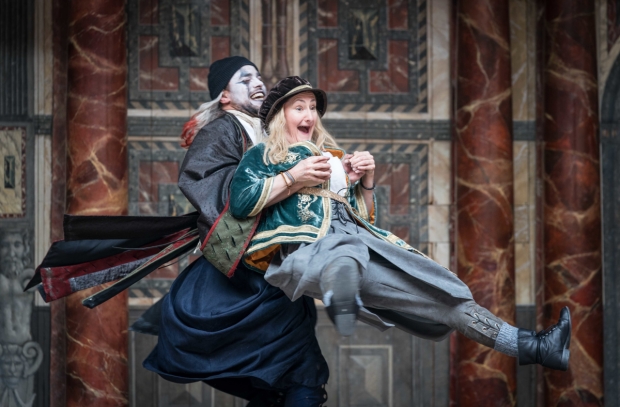 Back in January the Globe's incoming artistic director Michelle Terry announced that, on some nights, audiences themselves were to have the chance to vote for the Shakespeare play they want to see, in a move seen as both interactive and democratic. It's fair to say there was also some small degree of uncertainty as to whether or not the system would work: "I have absolutely no idea [how the audience will choose]", Terry said at the time, "we've talked about hands up, vegetables being thrown, tweets."
It was a sentiment echoed on stage on Friday, as the first "Voter's Choice" experience saw the assembled audiences picking between Twelfth Night, The Merchant of Venice and The Taming of the Shrew, performed by an ensemble of eight actors. "Thanks for being part of this experiment," one, Sarah Finigan, said before the vote began, "it's very terrifying." The show was to be chosen by the loudest applause – the biggest cacophony wins.
As someone keen to see a new version of The Merchant of Venice (a show I'd never seen before at the South Bank venue), I bellowed out when it was called first, desperately trying to get selected. Alas, my attempts were in vain when confronted with the clamorous, wood-beating standing ovation that greeted the suggestion of Twelfth Night – a few seconds after the minute-long applause died down, an Orsino had appeared, and music was the food of love. Democracy at its most deafening, but a novel experience nonetheless.
What ensued was a largely tight albeit somewhat pedestrian affair. The eight actors (the same ensemble that will embark on an international tour of the three shows over the next few months) multi-role a slightly abridged version of the play (the role of Fabian, for example, completely cut), with minimal props and lighting. Director Brendan O'Hea keeps things lithe, actors and scenes rarely pausing for breath as the piece ticks along briskly – a 140-minute runtime breezing by.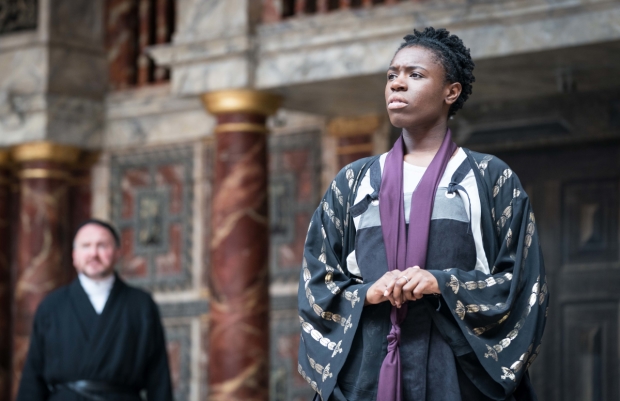 On the performance side, the musical stylings of Luke Brady as a stoic yet sage Feste go a long way to stealing the show, while Finigan and Russell Layton are a comedy force as the classic pair Andrew Aguecheek and Toby Belch. In the spirit of Terry's new season, a lot of gender-blind casting does shed a slither of new light on the themes at the heart of the play (Steffan Cennydd's Viola, a nice blend of trembling self-consciousness and sudden outspokenness, being pivotal for this) but amongst all the ruminating about romance and social role, the shows loses a sense of chemistry between Cennydd, Cynthia Emeagi's Olivia and Rhianna McGreevy's Duke Orsino.
That said, it's easy to forget that everyone in this ensemble has (at least) three different roles to create and portray, fight cues and music to memorise with no time to get into the mindset of their characters. The troupe's ability to leap into action is certainly an impressive one.
It may not have been as dazzling as Emma Rice's cruise line disco caper from 2016, nor as slickly executed as Mark Rylance's Stephen Fry-touting all-male affair in 2012, but the democratisation of the experience was so fresh and liberating that it made for a wholly memorable evening. Though it's easy to see some flaws in the process (Twelfth Night, as perhaps one of the Bard's best-known plays, looks set to be the firm winner on most occasions), it'll be hard to forget those roars of adulation for Shakespeare plays that came during the voting process.