Review: The Omission of the Family Coleman (Ustinov Studio, Bath)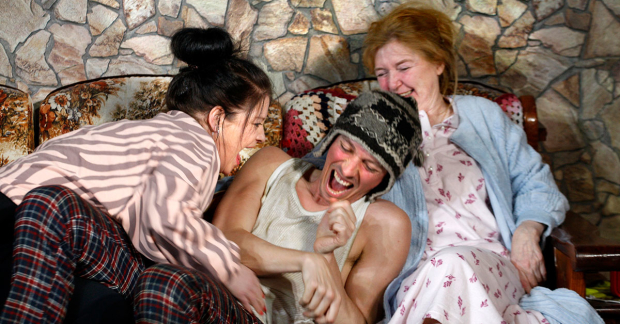 "We're a normal family" says brother Marko in Stella Feehily's adaptation of Argentinian play The Omission of the Family Coleman. Well, they are and they aren't. The Colemans are really only 'normal' in the sense that every family, when you dig below the surface, is gloriously abnormal.
Here, however, you don't have to dig deep to find the madness within. Feehily transposes Claudio Tolcachir's family drama to Ireland and the piece takes place mostly in the confines of the present-day Coleman family house in Dublin. It's all an eye-watering melange of brown '70s floral patterns and weird carpet-like wallpaper in Tim Shortall's claustrophobic set designs. Here we meet the 'immature' Ma, whose kids – from a variety of different fathers – include twins Gaby and Damian who are both clawing to fly the coop, the 'difficult to manage' Marko, who may have learning difficulties but seems able to read minds, and posh lass Veronica – who left the family home as a baby to live a much more privileged existence with her father. Then there's the much-loved Granny, who keeps them all glued together.
They bicker, whine, bash each other over the head and generally make complete nuisances of themselves. Ma – or Mary – is no better than her offspring, she's a helpless, desperate woman who can do nothing for herself save light a fag. When the mostly absent Veronica, who won't bring her two children anywhere near the Coleman house, turns up we see the effect of nature versus nurture. She may have just as many issues as the rest of the family, but what a difference money, stability and not being constantly threatened by the gas being cut off can make. When Granny gets ill, they're all thrown together into the same space for a prolonged period of time and this already troubled family unit really starts to unravel.
At its root, The Ommission of the Family Coleman is a portrait of poverty, but it's a brilliantly funny one, which shows how family and genuine love can exist in the most unhappy and chaotic of places. Feehily's version beautifully embraces the violence and frustration that bubbles away in several members of the family, and the carefully choreographed fights (from fight director Sam Behan) are absolutely pitch perfect. They have the viciousness and speed of every fight there ever was between siblings.
It's Rowan Polonski's portrayal of Marko that shines among the performances, which are otherwise mostly fine. Polonski never overdoes Marko's quirks, and gives us a rounded, compelling characterisation of the younger brother who has his own secrets, but relies so heavily on his family. His story is the underlying thread to the entire piece and Polonski's dedication to the part really pay off in the play's heartbreaking final moments.
Laurence Boswell's production balances nicely between out-and-out comedy and family drama with a message. But it's Feehily's smart, coherent adaptation that emerges as the family favourite.