Review: The Knowledge (Charing Cross Theatre)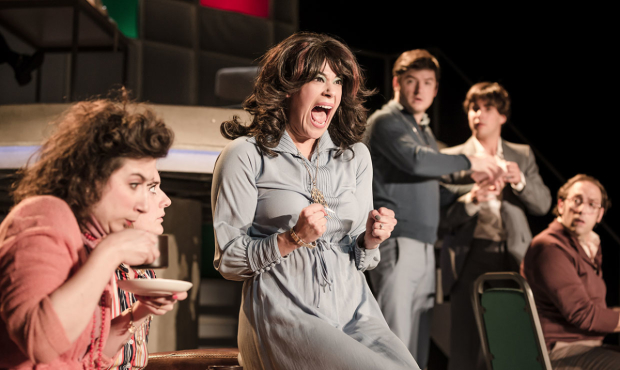 The late Jack Rosenthal's tragi-comic TV film The Knowledge was first aired in 1979 and was a fascinating, funny story of a bunch of mismatched Londoners trying to learn an essential, encyclopaedic working 'knowledge' of all the capital's streets in preparation for a final exam which would allow them to become fully fledged Black Cab drivers. So far, so dated: you might think that the rise of Über, unlicensed cabbies and Google Maps would render the story as far removed from, and irrelevant to, present day London life as possible. However that wouldn't be entirely accurate: the hair styles, fashions and sexual politics may stay firmly rooted In the '70s but this tale of financially straitened individuals desperately trying to improve their lot in the face of an increasingly hostile, unforgiving economy still feels sadly relevant today.
More than that, there is an unsentimental warmth, and genuinely love for humanity, in Rosenthal's salty, crackling dialogue and affectionately drawn characters that feels genuinely timeless: writing this astute, accessible and witty never goes out of fashion. It surely helps that, for this stage adaptation by Simon Block, the director is Maureen Lipman – Rosenthal's widow and one of the leads in the TV film – who completely understands the story, the milieu, the characters, and who also, crucially, doesn't attempt to enforce a modern spin or commentary on any of it. She has joyously allowed these flawed, lovable, try-hard misfits to speak for themselves and the situations they find themselves in as they seek to gain 'the knowledge' that will hopefully improve their lives and those of their long-suffering loved ones. The whole – often hilarious – evening moves along at a terrific pace but never so fast that you don't have time to care about what happens to the people at the heart of the story.
Chief among these is slightly gormless but entirely charming unemployed Chris (a winning Fabian Frankel) whose course is being bankrolled by his feisty, whip smart girlfriend (Alice Felgate, terrific). With his well meaning ineptitude masking a surprising level of determination, Frankel delightfully recalls a young Norman Wisdom, and the scene where he finally achieves his cab driving goal brings a genuine lump to the throat. The sequences featuring desperate but proficient Ted, who comes from a long line of cabbies, and his doting, neurotic wife (Ben Caplan and Jenna Augen, neither of whom could be bettered) suggest a Jewish Ayckbourn at his most mordantly funny, and the conclusion of their slice of the story carries another emotional wallop.
James Alexandrou lends a street-wise charm and impressively subtle simmering aggression to chauvinist wide boy Gordon with Celine Abrahams, a comic delight as his all-seeing, upwardly mobile wife. The sole female among the trainee drivers is Louise Callaghan's nicely drawn, take-no-prisoners Miss Staveley. There is a particularly hilarious scene where she brutally rebuffs Gordon's unwanted advances that will make you wince or cheer depending on which side you're on.
Presiding over them all is the examiner Burgess, known as 'The Vampire' to the trainees. Apparently a tyrant and a bully with a Bonsai tree fixation, given to bizarre outbursts, weird facial and vocal tics, and sudden, incomprehensible misappropriations of regional accents, he is a sublime comic creation. If at first the shadow of Nigel Hawthorne's (frankly amazing) performance in the film hangs heavy over Steven Pacey in the role, by the conclusion Pacey has triumphantly made Burgess his own, largely by investing him with a subtle humanity that wasn't as discernible in the film. He is magnificent, as alarming as he is hilarious.
Richly enjoyable as it is, the evening is not quite perfect. While satisfying both dramatically and comically, the episodic structure and extremely short scenes are constant reminders that this was initially written for the screen, and Nicolai Hart-Hansen's streetsign-strewn set is a bit nondescript and gives little sense of the 1970s, an accusation that certainly couldn't be levelled at Jonathan Lipman's frequently garish costumes. Ultimately though, this is a fine, funny night in the theatre, and a touching requiem for a London that sadly feels long gone.
The Knowledge runs at the Charing Cross Theatre until 11 November.