Review: The Half God of Rainfall (Kiln Theatre)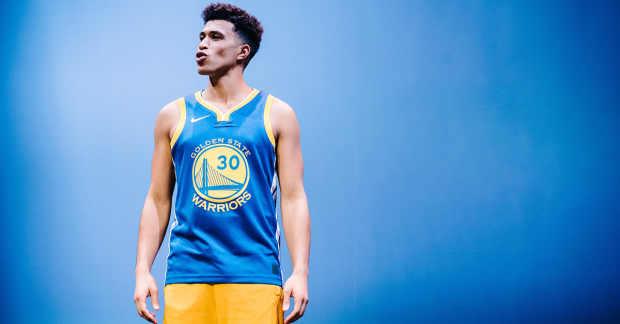 In case you were wondering, the Pope recently clarified that Lionel Messi is not God – merely a very talented boy. Of course, Messi is not the first sports star assumed to be super-human. This absorbing play from Inua Ellams imagines a basketball supremo who really does possess divine talents.
The Half God of Rainfall follows Demi: the child of a mortal Nigerian woman and the Greek god Zeus. The boy's moods control the weather, and he can make basketballs rain through hoops too. This prodigy is destined for a dazzling career – but also for a bloody battle with his illegitimate dad. Kwami Odoom and Rakie Ayola share out the roles of these (and other) characters in this two-hander.
The action begins on the basketball court: that same kind of male-bonding domain that Ellams' work Barber Shop Chronicles so lovingly depicted at the National Theatre. But what follows is something altogether more fanciful, weaving Yoruba religion with Greek myth in a sort of epic mash-up.
Half God's ambitions know few bounds. If John Milton lived in 2019 and spent his days streaming Marvel superhero films and NBA games, he might have devised such a yarn himself. It's filled with lofty verse and battles in the sky, and not unlike Milton's very own Paradise Lost, it distorts your moral compass to leave you questioning who's good and who's evil. Spoiler: Zeus comes off badly.
It's a story for these 'woke' times – the #MeToo campaign a continual backdrop – but with timeless resonance and a nod to the impact of colonialism. A once-untouchable white male (the king of the gods no less) is finally challenged; his empire brought crashing down by the oppressed African.
Stacked high with classical references, Half God is a little too rich to ingest at the brisk pace set by director Nancy Medina. It could benefit from scaling back the cast of godly voices (both Yoruba and Greek) who pitch in to the drama. If you lose the thread for a minute – easily done in the middle stages – there are few visual markers to get you back on track. The production is very spartan: light on costume and devoid of props.
But like a veteran of the battlefield or basketball court, the show does bounce back. The final quarter is a cathartic slam-dunk that practically had the fans fist-pumping in their seats. Half God offers another illuminating take on the male psyche from Ellams, as well as two thundering performances from Odoom and Ayola. Bow down before them all.