Review: Heathers the Musical (Haymarket Theatre)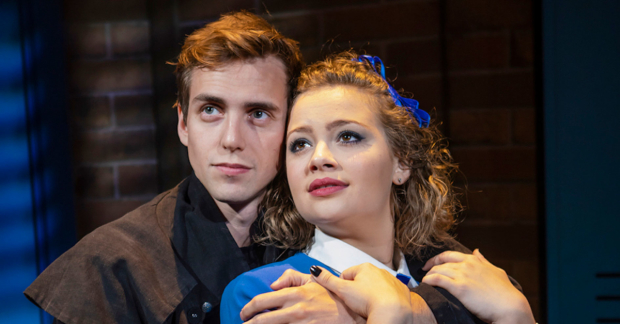 There are nights in the theatre where I feel that I am watching a different show than everyone else. So it was at Heathers. I was mildly entertained at points, but the sheer raucous noise of the thing put my teeth on edge. Yet all around me, was an audience whooping with joy.
I can see why they liked it. This musical version of the 1989 film, which made a star out of Winona Ryder, has huge energy and attack. Everyone gives it their all. It is rude, disrespectful and humorous. But in adapting the film for the musical stage, Kevin Murphy and Laurence O'Keefe have turned a dark, disturbingly funny film, into a huge cartoonish spectacle.
Yet it remains a story that tackles incredibly serious themes – about bullying, about the need to conform, about teenage suicide. O'Keefe enjoyed huge success with Legally Blonde, and applies many of the same smart tricks here. But in making the tale so breezy, so incredibly loud, both literally and metaphorically, it shouts out all possibility for nuance and understanding.
Anyhow, for those who don't know the tale (and there didn't seem to be many of them in the audience), here we are at Westerburg High School in Sherwood, Ohio, where there is a powerful pecking order of influence led by the ferocious Heathers – three girls with the same first name who form a "lipgloss Gestapo". Our guide is smart, funny Veronica, an Ivy League hopeful, who decides that the only way to survive in this "Thunderdome" is to make the Heathers her friend. But her plans are derailed and diverted by the arrival of troubled but handsome psychopath JD, who has a different and more fatal approach to the difficulties of teenage survival.
As Veronica, Carrie Hope Fletcher has just the right mixture of ruthlessness and idealism; she is a good girl who gets mixed up in a bad things. Her blinding passion for JD is built on one of the musical's few quiet – and consequently most effective – scenes, when they met and talk and he sings of his love for slush puppies and the way they freeze your brain.
The song is clever because it is both catchy and alarming, and Jamie Muscato is perfect as JD, with a sly smile that glazes over into a scary stare. When he and Veronica are alone on stage together, Andy Fickman's production feels as if it hits its stride. It exhibits some stylish touches, elsewhere too, particularly early on. Gary Lloyd's choreography is sharp and energetic. The vicious Heathers are distinguished from each other not only by colour co-ordinated outfits but by colour appropriate spotlights in red, yellow and green. The fights are staged in enticing slow motion.
But as the action gets darker, and Veronica wants to pull away from JD's dark desire to make the world a better place by killing every "asshole" in it, the musical simply can't modulate to generate any proper emotion, tension or empathy. The songs all sound the same (and are all VERY LOUD) and the mundanity of the lyrics begins to grate. I can just about enjoy a routine that turns the death of two jocks in a fake suicide pact into a hymn to tolerance and love for "my dead gay son" but I felt my smile freeze on my face when the show's satire on the way everyone cashes in on teenage suicide is played as screeching farce.
When O'Keefe adapted Legally Blonde he improved that movie by lending it more heart and wit, here Heathers feels reduced; the nasty cruelty of the original is played for laughs. It is, if the audience reaction is anything to go by, certain to be a hit. For me it felt like a palpable miss.