Review: Berberian Sound Studio (Donmar Warehouse)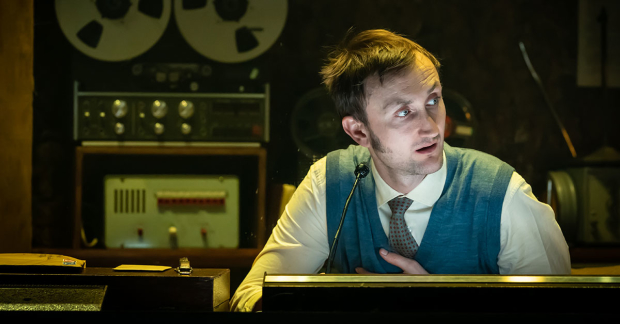 Severed carrots. Smashed watermelons. A cleavered cabbage. Many vegetables are harmed in the making of this, a stage adaptation of Peter Strickland's critically acclaimed 2012 film about a sound engineer from Dorking transferred to the weird and wonderful world of a 1970s Italian post-production studio.
It's an interesting proposition for the stage: a film about the making of film and the power of filmic sound transferred to the medium of live theatre, where the relationship between art and artifice is a necessarily different business. Sound matters in the theatre, for sure – ask any director or sound designer – but a live audience is generally less easy to manipulate than a movie one; though the thousands who've shivered and screamed through productions of The Woman in Black may, I appreciate, beg to differ.
Writer Joel Horwood and director Tom Scutt tackle this, for the most part, through the superb use of atmospherics. In conjunction with designer Anna Yates, Scutt has created a stunning set, fully immersing us in the hermetically-sealed studio, complete with Neumann microphones, reel-to-reel tape recorders, and an ominous red sign calling for "Silenzio".
Our Brit-out-of-water, Gilderoy – brilliantly embodied by Tom Brooke, whom many will recognise, less the facial scarring, as the sniper from the BBC's Bodyguard– is in analogue heaven. Or at least he is at first, until the foley requirements of The Equestrian Vortex, a shlocky giallo horror directed by the sinister Santini (Luke Pasqualino), start to transport him somewhere closer to hell.
There is much to enjoy here – Brooke's performance, for one, and those of the rest of the cast, many of them bilingual, with the untranslated Italian dialogue no doubt creating as much sonic confusion for most British audience members (though not this one, as it happens) as for Gilderoy himself. And the sound, quite rightly, is wonderful – composer-designers Ben and Max Ringham and foley designer Tom Espiner (who also performs) have great fun playing with our binaural hearing, and some very impressive foley tricks are enacted live on stage.
In terms of narrative, however, the play is pretty baffling. Themes – Gilderoy's mental state; misogyny and violence against women; the ways in which our ears and eyes deceive us – appear and then melt away, without ever quite coalescing into a coherent whole.
Perhaps those who have seen Strickland's film – I haven't – will be left a mite less confused, but a stage adaptation should really stand alone. The bells and whistles are all here – in many cases, literally – but it's frustratingly difficult to work out what, in the end, lies beneath all this sound and fury.