Punchdrunk's Drowned Man extends to 23 February 2014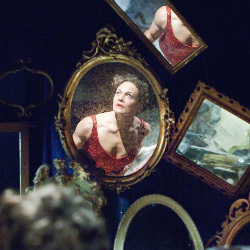 Punchdrunk's immersive show The Drowned Man: A Hollywood Fable has extended its run at the Temple Studios until 23 February 2014.
The news was delivered by a mysterious note with a telephone number to ring for some "important information" about the production. Upon ringing the number, Leland Madison Stanford said that the "shooting schedule for The Drowned Man has been extended".
A collaboration with the National Theatre, the show is inspired by Georg Büchner's unfinished 19th-century play Woyzeck and opened in June. It is set over four floors of the Temple Studios in Paddington, which the Punchdrunk Team have converted into a film studios.
The Drowned Man: A Hollywood Fable is set in a Hollywood studio populated by "dreamers who exist at the fringes of the movie industry". Involving a company of over 30 performers, it is Punchdrunk's biggest project to date.
Led by Felix Barrett, Punchdrunk's previous productions include Faust, The Masque of the Red Death, Tunnel 228, It Felt Like A Kiss, The Duchess of Malfi, Sleep No More and The Crash of the Elysium.
The message ended: "For now, the cameras are still rolling, the wheel is still turning and whilst the band are still playing, nobody goes home. That is all, goodbye for now."