Michael Coveney: Annabel Leventon and Robert Meadmore shake up Crazy Coqs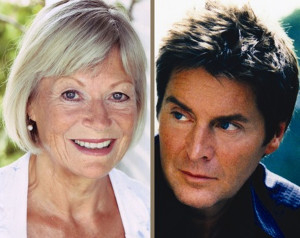 One of the best things about Ruth Leon's cabaret programme at the Crazy Coqs is the accommodation of the unexpected among all the usual piano lounge suspects. This may not be the equivalent of the big name popular cabaret wave London last experienced in the 1970s, but it sure feels like a good time happening.
And last night I saw Annabel Leventon and Robert Meadmore follow in the footsteps of Anne Reid (who was in the audience with Derek Jacobi) and Celia Imrie in laying down a treat of a show that mixed Sondheim, Jerry Herman and Irving Berlin with French classics, original new songs (written by Leventon and her son, Harry Adams) and a fine sprinkling of quality anecdotage.
Leventon, who was in the first production of Hair in London, revealed how, in her early days, she hung up the phone on Marlene Dietrich and slammed a dressing room door on Judy Garland. (Accidentally in both cases, of course.) And Meadmore, one of the truly outstanding operatic tenors of our post-war musical stage, recounted the nightmare of working with the genius of Richard Harris in Camelot and didn't even sound too creepy in admitting he followed Barbara Cook – whom he didn't know – around the Metropolitan Museum in New York for four hours "just to breathe in the same air as her."
The CC at the Brasserie Zedel – fully established as London theatre's favourite eaterie and watering hole – was packed to the AA Gills before show time, not just with the cabaret crowd, but also with business associates, birthday parties, lovers on first dates and one large group including the great Aussie horse-racing commentator J P McManus.
This was Leventon and Meadmore's second of only three nights – Imperfect Relationships, as they call the show, is partly work in progress; they only met and first worked together on last year's revival of Jerry Herman's Dear World starring Betty Buckley – but that didn't put anyone off.
Meadmore we know about. But Leventon I think we'd forgotten; she's been a leading musical theatre lady in waiting all her life. But as Graham Norton said to me in the interval, we don't really have leading musical theatre ladies in this country. We have Elaine Paige and possibly Maria Friedman. We don't have Betty Buckley, Patti LuPone, Bernadette Peters, Liza Minelli, Ethel Merman, Angela Lansbury…
Lansbury is British, of course, and her one big musical triumph on the London stage, as Mama Rose in Gypsy in 1973, remains unrivalled here except by Elaine Paige in Evita and – though she's not a musical theatre star, merely a superb actress – Imelda Staunton in the recent Sweeney Todd. I kept thinking last night of all the performances Leventon might have given: in Sondheim, Pam Gems' Piaf or Marlene, even some of the lost British musicals of the 1950s and 1960s, Lerner and Loewe.
One of the many highlights was "Sue me" from Guys and Dolls, where Leventon's Miss Adelaide contained a hint of giving even Julia McKenzie a run for her money. The duo did another great job on Jacques Brel's "Ne me quitte pas" and were joined in a spine-tingling rendition of the stirring Piaf chanson, "Les trois cloches", by their brilliant pianist Stefan Bednarczyk. And they encored with my favourite duet of all, Berlin's "I hear music but there's no-one there," from Call me Madam, last performed on the West End stage by Noele Gordon and Basil Hoskins – "Yes, and weren't they awful!" quipped playwright Stewart Permutt, correctly.
The show was introduced by Leventon's cousin – quelle surprise! – Miriam Margolyes, no less, who was squired by Graham Norton; Graham was certainly enjoying Meadmore's exquisite delivery of "Song of the Sand" from La Cage Aux Folles, in which he starred in the West End for the Menier Chocolate Factory, taking over from Douglas Hodge.
Also in the room were Alison Steadman and Michael Elwyn, Fiona Fullerton and Liz Robertson, top casting agents Lesley Duff and David Grindrod, playwright Samuel Adamson, Nimax Theatres executive Keith Turner, Peter Land (who appeared in Dear World with the duo) and my actress and drama teacher friend Sarah Finch; in all, as mixed a bunch of thesps as I've encountered in a small space in a very long time. We were brilliant. But only thanks to Annabel and Robert, a partnership with long legs, that's for sure. Well, here's hoping…