Matt Willis, Carrie Hope Fletcher and Harry Judd to star in Tom Fletcher's The Christmasaurus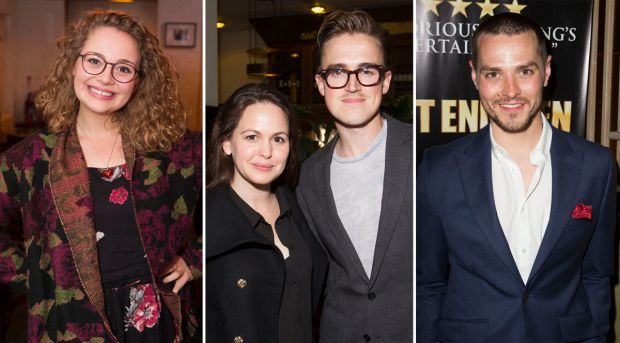 At a special preview event earlier today, musician, performer and writer Tom Fletcher announced the initial casting for The Christmasasaurus, his new family-friendly musical coming to the Eventim Apollo in December.
Carrie Hope Fletcher, Matt Willis, Harry Judd and Giovanna Fletcher will all star in the piece, directed by Derek Bond and adapted for the stage by Miranda Larson. The show will feature sleigh bells, dancing elves and a special appearance from Saint Nick.
Judd and Tom Fletcher are both members of the band McFly, while Willis performed in Busted. The trio combined to form a supergroup, McBusted, which toured the UK from 2013 to 2015. Willis' further stage credits include Wicked, Flashdance and Footloose.
Carrie Hope Fletcher's previous stage credits include Les Miserables and The Addams Family, which is about to conclude a UK tour, while Giovanna Fletcher made her concert debut in a one-off performance of Alan Menken's A Christmas Carol at the Lyceum Theatre last year, also starring Carrie Hope Fletcher.
The musical is based on the 2016 novel of the same name, written by Tom Fletcher and nominated for the Children's Book of the Year at the British Book Awards. The show follows the life of young boy William Trundle as he embarks on adventures across the North Pole.
Tom Fletcher says: "The book all began with a song, called "The Christmasaurus"! That song inspired this whole story and as I began writing the book I wrote more songs that helped me tell the story and bring the characters to life. The book was released last year but I wanted to get these songs out there too."
Fletcher has also announced that The Christmasaurus will be adapted into an animated feature film, directed by Michael Gracey (who makes his directorial debut with The Greatest Showman on Earth which opens this Christmas and stars Hugh Jackman and Zac Efron).
The Christmasaurus runs at the Eventim Apollo from 21 to 28 December.