Judi Dench, Rob Brydon and Daniel Radcliffe to feature in Old Vic Twitter broadcast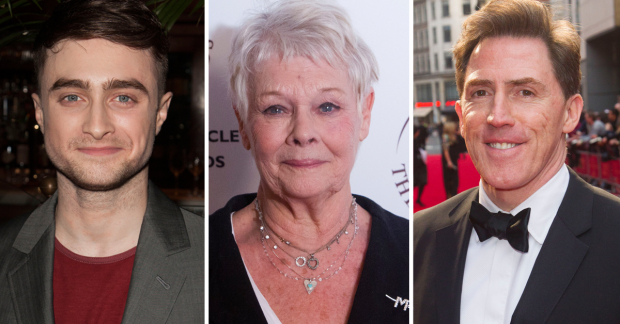 The Old Vic has announced a unique Twitter broadcast featuring the likes of Judi Dench, Rob Brydon and Daniel Radcliffe.
Taking place across several hours on Friday 11 May – and marking the beginning of the theatre's 200th-anniversary celebrations, the broadcast will take place on the Old Vic's Twitter channel and offers a glimpse into the work of the theatre both on and off stage.
Artistic director Matthew Warchus and executive director Kate Varah will kick things off at 2pm followed by the first act of Tamsin Oglesby's Future Conditional, which played the Old Vic in 2015 starring Rob Brydon.
This will be followed by interviews with Old Vic bicentenary ambassadors including Dench, Glenda Jackson and Lesley Manville. Later in the afternoon there will be a chance to see the monologues which formed part of Maxine Peake's One Hand Tied Behind Us – a celebration of 100 years of women's suffrage featuring Sheila Atim, Jill Halfpenny, Siobhan McSweeney, Flo Wilson and Celia Imrie.
Harry Potter fans will want to tune in from 3.48pm as Daniel Radcliffe and Joshua McGuire take viewers on a tour around the Old Vic, and they'd do well to stick around afterwards for Sheila Atim's beautiful rendition of "Tight Connection To My Heart (Has Anybody Seen My Love)" from Girl from the North Country.
Other highlights include an interview with Lolita Chakrabarti (3.58pm) about Ira Aldridge – the subject of her hit play Red Velvet – and a section with Simon Callow (4pm) discussing the women of the Old Vic, before the second act of Future Conditional begins at 4.02pm.