It's Headed Straight Towards Us at the Park Theatre – review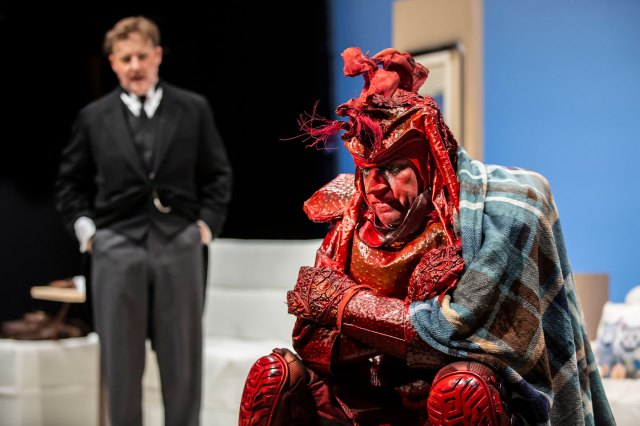 Despite taking place in the star Winnebago on the set of a film shoot in Iceland, Adrian Edmondson and Nigel Planer's loquacious comedy is a quintessential stage play. It's Headed Straight Towards Us is steeped in theatrical lore and references, infused with "luvviedom", and will be catnip to anyone obsessed with acting and actors. It's also very funny, rip-roaringly so if you're in the performing arts or are close to somebody who is.
The initial premise is simple: hellraising former star Gary (Rufus Hound), now reduced to single-line cameos in high-budget fantasy flicks like the one being shot here, fetches up in the trailer of precious leading man Hugh (Samuel West) after a bender. Gary and Hugh have history since they went to drama school together ("does one ever truly leave?" ponders Hugh, fruitily) but more recently have been feuding over an unfortunate and very public lunch incident involving custard and Alan Bennett.
Gary is a womaniser, Hugh was married but has recently come out, and is trying, from a distance, to stem the flow of furniture leaving his house as his Russian boyfriend sells it all off. Trying to keep the peace while ensuring the filming schedule keeps on track is 21-year-old assistant Leela (Nenda Neururer) who has problems of her own. We would appear to be in for a couple of hours of cattiness and infighting, and we do get a fair amount of that, but Edmondson and Planer go further.
All three characters' lives are coming apart at the seams, but then Mother Nature gets in on the act. Leela reveals that the trailer they're sitting in is perched on an ice plane over the mouth of Eyjafjallajökull, the not-so-dormant volcano that disrupted countless international flights in 2010 ("I was stuck in Tuscany with Benedict Cumberbatch" recalls Hugh), and that there are volcanic developments afoot. Before long, this hapless trio are stranded on a different sheet of ice from the rest of the film crew and the fissure dividing them has become a ravine which swiftly develops into a gorge.
Rachel Kavanaugh's deft, pacy production doesn't belabour the metaphor and skilfully brews an atmosphere of mounting panic that periodically breaks through the urbane surfaces of this trio of self-absorbed characters. Although they're each, in their own way, quite comically awful, the flawless acting and the sparkle of the writing ensure that these selfish, damaged people remain likeable throughout.
In a beautifully layered performance, West captures precisely the monstrous self-regard but strangely lovable demeanour of the kind of man who joins Alcoholics Anonymous for the networking opportunities ("I got a couple of tellys") rather than because of his drinking. The way his face goes from concerned frown to subtle grin when discussing his newly impecunious ex-wife is telling and hilarious.
Hound makes vivid the demons that haunt Gary, and entirely convinces as a man who has covered his innate talent and thirst for the craft of acting with veneers of booze and outrageous behaviour for years. He's great fun, but also peculiarly heart-catching. Neururer is a glorious breath of fresh air as the young woman who's mostly more mature and pragmatic than these two men who are old enough to be her father.
Michael Taylor's trailer set seems pretty basic at first look but proves unsettlingly moveable as the play progresses. The script is stronger on throwaway theatrical trivia and in-jokes ("I did six months at the Royal Court, I think I know how to grunt" says Gary at one point) than on real insight perhaps, but it's hugely enjoyable. The only times it comes a little unstuck is in the lengthy confessional sections that each character gets: although nicely written, they feel slightly forced. Nonetheless, the relationship of actors to their craft, and the various ways alcohol affects different humans are explored with real sensitivity and wisdom. Plus it is frequently laugh-out-loud funny.
All in all, this feels like a potential smash hit.