Huddersfield ready for annual Contemporary Music Festival
The UK's foremost festival of new music, Huddersfield Contemporary Music Festival (21 – 30 November), is as impressive in scale as it is in quality. Now in its 37th year, it has announced, probably not coincidentally, 37 world premieres, plus 79 UK premieres. hcmf// operates in partnership with the University of Huddersfield and two of the eight venues being used in Huddersfield are in the university: Phipps Hall and St. Paul's Hall. For large scale concerts the splendid Town Hall is available and, of most interest to a theatre website, the Lawrence Batley Theatre plays a key role.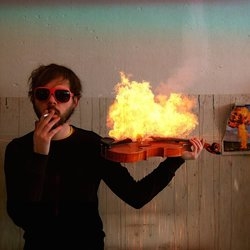 This year's festival features three operas, all at the Lawrence Batley. Salvatore Sciarrino's meditation on reality, madness and illusion, Lohengrin, loosely based on Wagner's opera, will be staged on the opening night. Billed as "an operatic monodrama", Lohengrin was first staged in Milan in 1982 and this new production originated in Bergen in 2013.
A new chamber opera, Buenos Aires, by Danish composer Simon Steen-Andersen, follows on 23 November and the final operatic offering is highly appropriate at this time of remembering the world wars. Widerstehen by Christopher Fox, first staged in 2012 to much acclaim, tells the story of his aunt, Elizabeth von Thadden, a German resistance fighter who was executed for her opposition to Hitler.
This year hcmf// moves out from Huddersfield to make use of one of Yorkshire's finest new arts venues: the Hepworth at Wakefield. On 23 November the Hepworth hosts a day of contemporary music, beginning with a free concert by EEEEE (Early English Experimentation played by Edges Ensemble) which is to exploit the layout of the Hepworth by spreading across several galleries. Later in the afternoon, famed free jazz saxophonist Evan Parker brings his Twelve for Twelve Musicians into the Hepworth's new space, The Calder, as part of the celebrations of Parker's 70th birthday.
Across the crowded programme it is worth noting also that the Composer in Residence this year is internationally acclaimed Scottish composer James Dillon whose music is showcased in four concerts.