Hattie Morahan gives 'golden performance' in The Changeling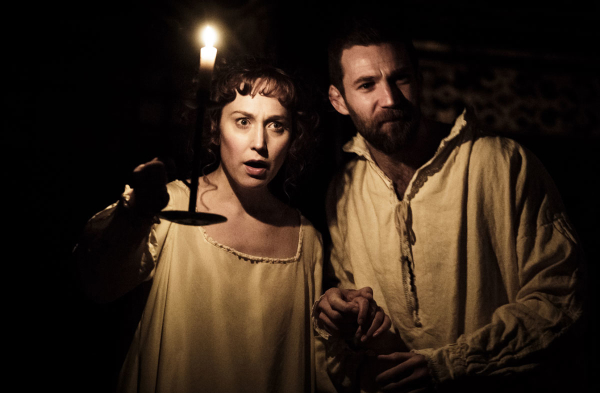 Matt Trueman
WhatsOnStage
★★★★
…Dromgoole's chief success is that theme of fakery. His madmen, rattling their cages and howling at the moon, cannot conceal their urges… Morahan plays her like an open book. She flinches when repulsed and undermines every lie by nodding or shaking her head… Dromgoole makes the two halves of this problem play – asylum and castle – make sense of each other. His characters are just as split down the middle; all two-tone personalities, saintly and sinning – as all of us are… If that keeps you thinking, with detective work aplenty, Dromgoole also hooks you in. The Wanamaker plays like a dream: murder's most foul in its half-light, yet laughs simmer throughout. Sophie Barber's strings, slip-sliding in and out of tune, and some gorgeous poetry, delight the ears as well.
Holly Williams
Independent
★★★
Thomas Middleton and William Rowley's The Changeling is as much a pitch-black comedy as a tragedy, the grisly plot of murder, adultery and deceit shot through with comic business. Dominic Dromgoole's production, nicely staged in traditional fashion at this candle-lit Jacobean-style playhouse, skillfully manages this tonal changeling – although I left without feeling any deep chills… Hattie Morahan excellently captures Beatrice's total self-delusion, and she's charmingly duplicitous from the off – you can see the cogs turning behind her eyes… Many of the supporting cast are less than compelling. The subplot is often cut or abridged, and you can see why… This staging, with dumbshows and slow scene changes, means the feverish pace this often far-fetched plot needs to carry it can evaporate on occasion…
Henry Hitchings
Evening Standard
★★★★
The gorgeous confines of the Sam Wanamaker Playhouse are the perfect setting for this sometimes sexy and always claustrophobic play… Morahan brings a mix of regal wilfulness and wayward vulnerability to her role… The character attracts our revulsion, and Morahan captures her complexity… Gravelle imposes himself — in a style that's charismatic without being showy — on his every scene. He locates all the dark humour in his lines… Director Dominic Dromgoole does a good job of suggesting the links between the wild passions of one set of characters and the genuine derangement that lurks elsewhere in society. Claire van Kampen's brooding music adds to our sense of being trapped inside a murky, volatile world with two main characters who are undeniably monstrous but both able to seduce us.
Dominic Cavendish
Daily Telegraph
★★★★
…At the Sam Wanamaker Playhouse, Dominic Dromgoole delivers an incandescent revival of The Changeling… I don't think it's too reductive to suggest that the Alicante-set story grows and grows – by turns vicious, horrific and grotesquely amusing – much in the way that a fire does, from small sparks transforming to an all-engulfing catastrophe… Even in a half-light – at one point, in dead of night, she's lit by a single flame – it's clear that Hattie Morahan is turning in another golden performance… she excels at combining a highly fraught emotional state with an air of wonder-eyed detachment… Among the fine period-dressed ensemble, I'd further single out Pearce Quigley as the asylum warden Lollio…
Quentin Letts
Daily Mail
★★★
…Hattie Morahan plays Beatrice-Joanna. The role is a cracker, or can be… It was bold casting to choose Miss Morahan. Her style of acting is modern-fluttery, full of self-doubting hand gestures, a voice good at echoey, 21st-century sarcasm. She manages to keep quite a lot of those mannerisms in check… Miss Morahan always delivers her lines fluently and she is never less than watchable on a stage… The plot of The Changeling is efficient to the point of abruptness… That, along with the slightly stiff Jacobean staging with its unchanging set and the Wanamaker's limited lighting possibilities, gives it a two-dimensional flavour… I have had jollier nights out – The Changeling is a pretty miserable yarn – but director Dominic Dromgoole gives the play an honest and faithful outing.
Michael Billington
Guardian
★★★★
…a fine-tuned revival by Dominic Dromgoole of this grisly 1622 masterpiece… which boasts a chillingly good performance from Hattie Morahan… as Morahan showed in A Doll's House, she is expert at playing women on the edge of neurosis… Although lacking the physical repulsiveness the text suggests, Trystan Gravelle is a cool, laid-back De Flores, who nails Beatrice-Joanna's predicament when he tells her, "You are the deed's creature."… Once or twice the production goes for easy laughs… Claire van Kampen's music, meanwhile, has the right eeriness, and there is good work from Simon Harrison as the lovestruck Alsemero and Joe Jameson as the vengeful brother of the murdered suitor. This space's suitability for downright comedy has only been tested once, but the Playhouse already seems a natural home for blood-soaked tragedy.
Dominic Maxwell
The Times
★★★★
Where better than this murky mock-Jacobean playhouse for this murky Jacobean tragedy? Dominic Dromgoole's production of this ugly fiesta of double dealing and double standards boasts bloodshed that convinces in the candlelight. What's most exciting here, though, is the intimacy. As the wonderful Hattie Morahan turns to the audience to narrate her thoughts as our antiheroine Beatrice-Joanna, it feels as if we are locked in her head with her… Now, granted, this play's madhouse subplot remains a chore, despite some adroit comic byplay, particularly from Pearce Quigley as the jailer Lollio. Yet the cast's mix of humour with horror keeps this compelling. As she showed in A Doll's House, Morahan can go to enormous extremes without appearing to work too hard. She's extraordinary…
The Changeling runs at the Sam Wanamaker Playhouse until 1 March 2015. Click here for more information and to book tickets.