Happy Days starring Siobhán McSweeney at Birmingham Rep – review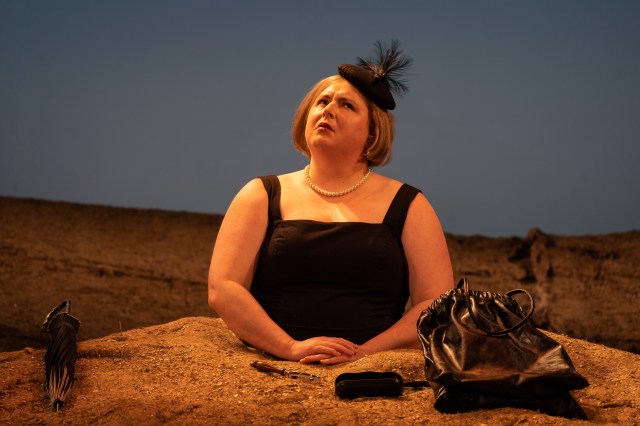 Audience members who bought their tickets for Samuel Beckett's Happy Days on the strength of Siobhán McSweeney's role in Derry Girls or The Great Pottery Throw Down may have been in for a shock.
Beckett could hardly be described as light entertainment and his work is not for everyone. Which I hope explains why some people left this production early at Birmingham Rep – because they certainly wouldn't have walked out as a result of the performances.
Those who remained were treated to a sparkling tour-de-force from an actress in her element. As the buried-in-sand Winnie, McSweeney shows why she recently picked up a BAFTA by giving us every nuance of the character.
While Beckett never explains Winnie's predicament, McSweeney's achievement is that we care less about why she is stuck in the ground and more about how she responds to it.
McSweeney's attention to detail is dazzling, as she delivers each line and every movement as a gift of theatre. From the shrug of the shoulders and smile as she announces 'today is another happy day' to the tension as she faces a loaded gun, she gives every ounce to Winnie, presenting us with a woman who is believable and relatable despite her utterly absurd situation.
Winnie is a challenging role to say the least and the temptation for an actress, and for a director, is to speed through the show afraid that an audience can't handle the pauses. But McSweeney keeps her nerve and holds the silences, forcing the audience to wait for her next observations.
Howard Teale, as Willie, is the ideal foil to Winnie, popping his head above the parapet every now and then, throwing out single words and answers very occasionally. His final moment, when he crawls towards his wife, is ambiguous – is he reaching for her or for the gun?
Directed by Caitríona McLaughlin, artistic director of the Abbey Theatre in Dublin, this production was first staged during lockdown solely as an online show and is currently on a short tour, having played Cork and Dublin and now coming to Birmingham Rep.
Jamie Vartan's set fills the stage with a giant mountain of sand, with only the ditch behind to hide Willie, so we are in no doubt of the vastness of the wilderness in which the couple find themselves. Paul Keogan's lighting subtly changes throughout the day as we pass from the bright blues of noon to the pink and orange hues of evening.
But what remains in the memory after the final curtain is, without doubt, McSweeney's performance. One only hopes that those considering theatre awards have managed to catch and note it, despite the show's short run.