Guest Blog: There is nothing like a (panto) dame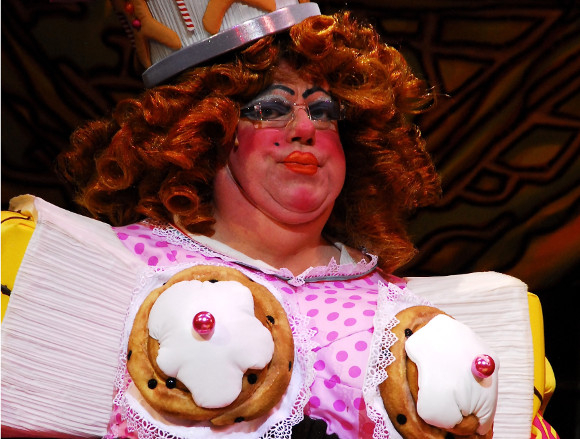 When I look back at the incredible list of names who have donned frocks over the years and portrayed Dames across the land, I consider it nothing but an honour and a privilege to be part of that illustrious roll call: Dan Leno, Arthur Askey, Norman Evans, Billy Dainty, Danny La Rue, John Inman and the wonderfully dry Les Dawson (who I have just had the pleasure of portraying in a national tour of Cissie & Ada).
There are several different approaches to these iconic roles. The glamorous diva with slitted skirts displaying fine legs (anyone who knows me will be much relieved that this is not my style – I have calves only a cow could love!) the mad-cap, slightly dotty bag of energy, dashing around gossiping to all and sundry, or the motherly, cuddly bundle of re-assuring warmth, taking everything in her stride. I always like to think, given I probably fall within the last character breakdown, that if my Dame stood at the front of the theatre at the end of the shows all the kids should want to give her a cuddle.
It's a real pleasure to be able to stand on stage and cast an occasional glance out to a theatre full of street-wise children who spend the rest of the year with a console of some sort in front of them. It's wonderful watching them gradually become kids again, getting involved with the live show in front of them, cheering, booing, soaking up the fun and adventure with the joy and innocence children should!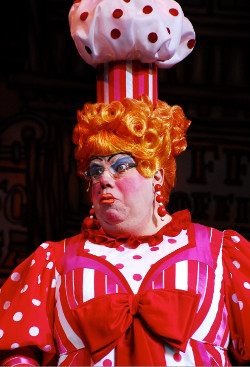 The Dame has always been one of the most rewarding parts to play in traditional pantomime. At some points driving the narrative, at others creating the laughter while all the time dazzling with a succession of wonderfully ridiculous or glamorous outfits which get an audience giggling or "ooh-ing" before a word has been spoken.
It's hard work of course. Two shows a day, (occasionally three) from November until January is no stroll in Peking Park. While the other characters get a breather backstage the Dame is usually getting changed into her next outfit. I have ten changes this year, enough certainly but nowhere near the usual routine of someone like Ceri Dupree, who doesn't get out of bed for less than 20 changes a show… and wonderful they are too!
There are mishaps of course. Having to do my whole opening spot, subsequent meeting of Dick Whittington and full company rendition of The Lambeth Walk whilst holding my tights up through my dress because the elastic had gone was one of many highlights (some said it actually improved my dancing ability).
Wardrobe malfunctions, exploding washing machines and temperamental radio mics are all part of the joys of panto. Like most other Dames, I wouldn't change it for a minute and as I prepare to head to Manchester Opera House for the season to direct and give my Sarah the Cook I get a lovely warm, Christmassy tingle of excitement and am reminded how lucky I am to be doing what I do.
Rodgers and Hammerstein were right, there really is nothing like a Dame!
Eric Potts stars in Dick Whittington at Manchester Opera House, which runs from 6 December 2013 to 5 January 2014