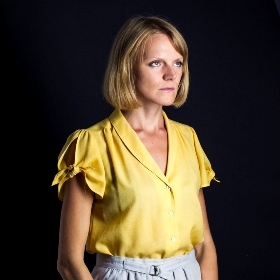 When I told my mum I was writing, producing and performing a one woman show to take to the Edinburgh Festival, she said: "Why don't you just drink a pint of gin and watch Lars von Trier's 'Antichrist'? You'll have a similar experience but it will be much cheaper".
Yes, the festival can be brutal, exhausting and financially draining but, in the same breath, exhilarating. It is one of the world's most inspiring and exciting theatrical environments in which to give birth to a new piece of work.
In all honesty, writing Danish Face and taking it to the Edinburgh Fringe this year came as a bit of a surprise, even to me. I had been entertaining the thought for some time, but it wasn't until my friend and director Paul Charlton (Fringe veteran with his sketch act The Ginge, The Geordie and the Geek) told me to get my fucking act together that I did something about it. The time is now!
Between us, producer Rosalyn Newbery and I have been visiting the beautiful, mad, hop-scented festival for 10 years, as performers, practitioners and punters. It's always been a place of professional development, creative stimulation and heady pleasure. It's also where we first met and worked with one another, on Look Left Look Right's multi-award winning show You Once Said Yes.
But this is the first time I've taken my own show to the Fringe, and I admit to being slightly terrified! Preparing has been a very different experience; when simply hired as an actor it's all sorted for you – the script, venue hire, accommodation, publicity, ticket sales. All you have to do is learn lines and show up on time.
"Let's just say I have a new found respect for producers and independent theatre-makers – it's tough!"
I am now more acutely aware than ever that taking a show up to Edinburgh, whatever its genre, scale or budget, is no easy task. The challenges are, and continue to be, plentiful. With little (or no) funds they're even greater. We're fund-raising through Kickstarter and, as most Fringe companies will know, we've also had to stump up a fair bit of our own money to get us up there. Let's just say I have a new found respect for producers and independent theatre-makers – it's tough!
Danish Face is an original and honest show; it is personal, but I hope it will have universal appeal. It centres around the three years I spent living in New York. The stories I tell follow my time spent there, the different characters I meet, the fact that I'm a Danish dyslexic insomniac. And all served with a generous sprinkling of twisted childhood memories. (I'm still trying to decide if my Mum should see it. It's pretty "uncut").
The idea for the show came from a memoir writing course I took in 2012. There were five people in the class: me, an anorexic, a retired closet gay, a borderline personality disorder and a 90-year-old hunchback. Each week I would get to hear a slice of each of these lives – memories that they felt were worth sharing. It was heaven. True stories always are, and I hope Danish Face will be just that for its audience. A little slice of bitter sweet Danish goodness.
Despite the risks and challenges, taking a show to the Edinburgh Festival offers massive opportunity and rewards, if prepared for correctly and worked for hard! Fuck it – sometimes you just have to jump in head first. In a way that's what the show is all about, so it seems an apt leap to be taking!
Danish Face is at Just the Tonic at the Mash House 31 July – 24 August.