Groundhog Day – watch the cast perform "One Day" from the sitzprobe at the Old Vic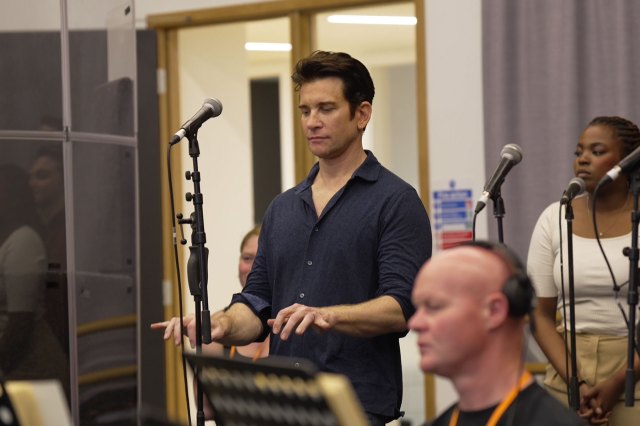 Exclusive: The Old Vic has released footage from the sitzprobe for the return of hit musical Groundhog Day.
Tanisha Spring and Andy Karl, who play Rita Hanson and Phil Connors in the production, respectively, lead the cast in "One Day" in the video below:
The show, which won two Olivier Awards for Best New Musical and Best Actor in a Musical, is based on the 1993 movie of the same name, and features music and lyrics by Tim Minchin, with a book by Danny Rubin and direction by the venue's artistic director Matthew Warchus. It was awarded another rave review by WhatsOnStage's Sarah Crompton recently, being described as "literally marvellous".
The original production's lead (Karl) has reprised his role as Phil Connors, the jaded weatherman who is forced to relive the same day over and over again.
The cast also includes Jasmin Colangelo (swing / puppetry captain), Kelly Ewins-Prouse (swing/dance captain), Kamilla Fernandes (ensemble / Debbie), Aimée Fisher (ensemble / Joelle), Zack Guest (swing), Nick Hayes (ensemble / Ralph), Jacqueline Hughes (ensemble / Piano Teacher), Ashlee Irish (ensemble / Larry), Chris Jenkins (ensemble / Gus), Andrew Langtree (ensemble / Ned Ryerson), Billy Nevers (ensemble / Fred), Eve Norris (ensemble / Nancy), Mark Pearce (ensemble / Sheriff), Ben Redfern (ensemble / Buster), Durone Stokes (ensemble / Deputy), Alex Stoll (ensemble / Billy), Jez Unwin (ensemble / Jenson), Annie Wensak (ensemble / Mrs Lancaster), and Matthew Whennell-Clark (swing / assistant dance captain).
The show features choreography by Lizzi Gee, set and costume by Rob Howell, orchestration, additional music and musical supervision by Christopher Nightingale, lighting by Hugh Vanstone, sound by Simon Baker, illusions by Paul Kieve, video and animation by Andrzej Goulding and additional movement by Finn Caldwell. Casting is by Will Burton, musical direction by Alan Berry, voice by Charlie Hughes-D'Aeth, and dialect by Penny Dyer.
The associate directors are Paul Warwick Griffin and Nik Ashton, and the assistant director is Natalie Gilhome, with associate choreography by Helen Siveter, associate set by Bec Chippendale and Megan Rouse, costume supervision by Zoë Thomas-Webb, hair, wigs and make-up by Campbell Young Associates, and prop supervision by Marcus Hall Props. The assistant musical supervisor is Jack Hopkins, with associate lighting by Chris Hirst and associate sound by Jay Jones.
Groundhog Day is currently playing an extended run at the Old Vic until 19 August, with tickets on sale below.