Groundhog Day review – the musical repeats its magic trick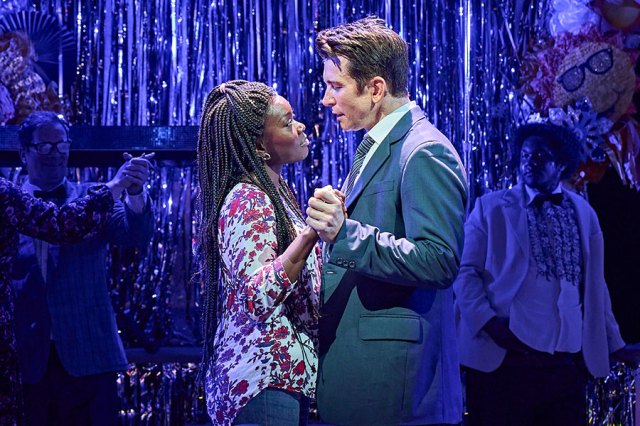 So here we are again.  Seven years after its premiere, the Groundhog Day musical is back at the Old Vic. Andy Karl is still playing cynical weatherman Phil Connors, condemned to relive a single day over and over. And I still love it.
The show has had its ups and downs since it first appeared.  After its triumphant premiere in London, which garnered it the Olivier award for best new musical, it closed prematurely on Broadway after only 176 performances, and a planned tour never materialised.  The version that now re-emerges is a bit slicker and a little faster; Rob Howell has simplified his design; there's new choreography by Lizzie Gee.
But the heart of this fabulous show with its book by Danny Rubin (who wrote the original 1993 movie, starring Bill Murray) and music and lyrics by Tim Minchin, remains unchanged.  It's a story of redemption and a man who finds his heart and his understanding.  It's romantic, soppy and very sardonic and sharp, full of both wit and wisdom.
The plot is exactly the same as the film.  Weatherman Phil Connors is furious at having to travel to Punxsutawney, Philadelphia, to report on the doings of groundhog Phil, whose behaviour on February 2 predicts the weather to come.  "There's nothing more depressing than small town USA/And smaller doesn't come smaller/Than Punxsutawney on Groundhog Day," he sings, scornfully. But then a storm traps him and his producer Rita in the town overnight.  When Phil wakes up, it is still Groundhog Day – and he is stuck in a time loop from which there seems no escape.
Skilfully directed by Matthew Warchus (who also worked with Minchin on Matilda), the first act establishes this basic conceit, with a rising level of hysteria as Phil's outrage at his predicament becomes ever more intense.  Karl, who has been playing Phil since the show's premiere, brings a brilliant level of viciousness to his dilemma, getting progressively more arrogant and unpleasant.
Once he realises his actions don't have consequences, he can steal, drunk drive, and seduce everyone in town, using the knowledge he has gleaned the previous day to court them. Only with Rita does this stratagem fail, and the scenes where he consistently attempts to woo her – "if you knew how deep my shallowness goes, you'd be shocked" – are among the funniest in the show.
What's brilliant about Karl's performance and Minchin's writing is that Phil's essential nastiness never leaves him, even while he is being charming.  He remains a louse, but now he's a louse quoting French poetry to impress. When Rita (a marvellously strong and shining Tanisha Spring) sings about her ideal man, he can't resist a sneer.  "This is a man we're talking about?"
Warchus and Howell match Minchin's verbal inventiveness, his sparkling internal rhymes and little flourishes, with a staging that is knowingly unreal.  The chase along the rail tracks begins in a life-sized car and then switches to toy cars, manipulated by the hard-working cast; a snowball fight takes place with snow that isn't there.
This visual aplomb is most notable in "Hope" – "There will be mornings you'll be utterly defeated by your laces/Days when every look seems condescending/empty smiles and empty faces" – during which Phil repeatedly tries and fails to kill himself, while simultaneously, in repeated acts of stage craft, appearing magically reborn on a different part of the stage.  It's a scene that brings oohs of delight from the audience.
But by then Groundhog Day has begun to cast its spell in many ways.   The second act opens with the single best song "Playing Nancy" in which Nancy, a subsidiary character sung beautifully by Eve Norris, bemoans her lot as "the pretty but naïve one" and the typecasting it leads to.  The ballad is an examination of both the difficulty and possibility of change, an ode to the belief in transformation which drives the closing arc of the show, as Phil realises that he will be happier as a nice guy than a mean one.
Karl charts this change with great subtlety and warmth.  Where the stage version differs most strongly from the film is that Rita isn't just the girl he loves, but a woman with agency and wisdom, who helps him find humility and reclaim his humanity.  That's what makes Groundhog Day such an enjoyable show: it earns its happy ending, which unfolds with grace and a sense of wonder. It is, literally, marvellous.